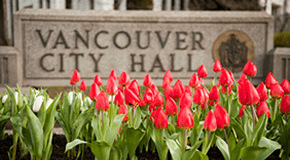 IN the darkness of the COVID-19 pandemic, Vancouver's community spirit is shining through as businesses and residents have stepped up to help those most in need.
Since its launch earlier this month, Give a Hand Vancouver has seen the local community collaborate to help stop the spread of COVID-19, providing a variety of donations to help frontline workers and provide relief to residents.
One such contribution came from Lush Cosmetics, with a donation of 15,000 bars of soap for distribution among at-risk residents.
Speaking about the donation, Tricia Stevens, Charitable Giving Manager at Lush Cosmetics, said: "We believe it is important to come together during times of crisis and support our local community. As a Vancouver-based business, partnering with the City of Vancouver's Give a Hand initiative enabled us to place 15,000 bars of soap in the hands of vulnerable populations to support hygiene and good health in this critical time."
Working with City allowed us to get products to those most in need as quickly as possible, and we would encourage all businesses with needed supplies to donate what they can," Tricia added.
Personal care kits for 500 people living in private single room occupancy hotels (SROs), who share cooking and bathrooms facilities, are being put together by the City and partners. The distribution of these kits is a critical part of the emergency response in SROs, by empowering and equipping tenants to protect themselves during this pandemic. The City is working with VCH and community partners to identify priority locations for distribution. By protecting low-income residents, many of whom are seniors or may have existing health conditions, we are also helping to protect the wider community.
Randy Kendall, Caretaker at United Rooms, described the impact of these donations when he said: "We appreciate the food, the cleaning and the supplies. The people down here are not forgotten. It's helping tenants with their quarantine and I'm really thankful."
We are seeking donations for an additional 3,500 personal care kits. The kits are planned to contain personal-sized soaps and disinfectants, gloves, paper towel and masks and we are looking for donations of all of these items.
The City is extremely grateful to every business and organization that has donated and helped their fellow residents at this time. Donations to Give a Hand to date include:
· Masks from the Chinese Benevolent Association of Vancouver and the Guangdong Community Association of Canada.
· Bottles of water from the Greater Vancouver Food Bank, Comet Warehousing, Townline Homes and Nando's on Davie Street.
· Bottles of hand sanitizer and cloth sewn masks from Heiky Kwan and her Hong Kong friends. 
· More than 800 cell phone donations from Telus, Bell and Rogers for distribution to non-profits and vulnerable residents.
· Digital and creative services from Victory Creative Co.
If you would like to make a donation or help out with Vancouver's COVID-19 response, visit giveahandvancouver.ca.
-30-