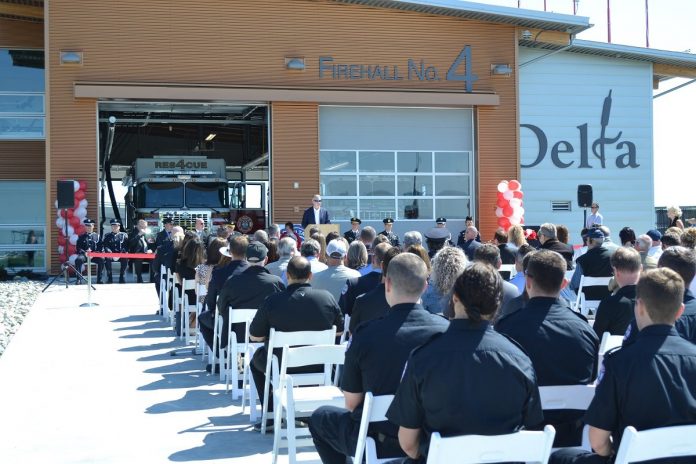 THE City of Delta celebrated the official opening of a new state-of-the-art Fire Hall, Training and Emergency Operations Centre at Boundary Bay Airport.
The Boundary Bay Fire Hall serves as a replacement for Fire Hall No. 4, which was decommissioned in 2017. This multi-functional facility provides a modern fire hall for Delta Fire & Emergency Service crews, a new fire training centre, and will also serve as Delta's Emergency Operations Centre (EOC).
"This post-disaster ready facility strengthens Delta's public safety infrastructure for the present and future. The strategic location of the Boundary Bay Fire Hall will serve not only the needs of the growing airport and surrounding businesses and industries, whose tax dollars helped fund this project, but also act as a key base for City emergency training and response operations with the dedicated training centre and EOC," said Delta Mayor George V. Harvie.
The 12,739 square-foot Boundary Bay Fire Hall is ideally located at Boundary Bay Airport to provide efficient emergency response to nearby provincial highways, both North and South Delta, the airport, and adjacent industrial lands.
This $9.6 million five-year capital project involved the work of a talented and dedicated team of staff from the City, Delta Fire & Emergency Services, Unitech Construction Management, and ongoing support from Alpha Aviation. The City completed this project without any new borrowing as a result of prudent planning and project management.
"The new Boundary Bay Fire Hall is in the ideal location to provide emergency response coverage for the airport, a growing industrial base, and to the nearby Highways 99 and 91," said Delta Fire Chief Paul Scholfield. "Delta Fire and Emergency Services now has its first fully dedicated Fire Training Centre which will help us continue to train our crews to the highest standard, strengthening our emergency response capabilities."