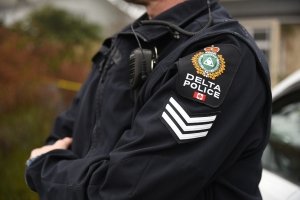 KEY crime and traffic indicators fell in all areas in Delta in the first three months in 2020, compared to the same time last year, Delta Police announced on Tuesday.
During March, when COVID-19 was declared a pandemic, Delta Police said it fully implemented its pandemic plan and shifted its deployment model, both to respond to new challenges, and to ensure enough officers would remain healthy and fit for duty to respond to any emerging situations.
"Throughout March and April our approach has been to ensure high police visibility, as we know this serves both as a deterrent and also provides a sense of safety to the public," said Inspector Ciaran Feenan, head of the Delta Police patrol section.
Although the drop in stats was most notable in March, some crime types experienced low numbers in other months too. For example, persons offences, which had been climbing since 2018 dropped 14% overall in the first quarter, compared to the first quarter of 2019. The numbers were low in both January and March, with February being the peak month. Persons offences include crimes such as assault or robbery.
Commercial break and enters were down significantly – 33% down compared to the first three months of 2019, with 29 reported to police. That trend seemed to be continuing in April.
Residential break and enters were down 17% in the first quarter, with just 45 reported to police, with the numbers dipping even lower in April. Year to date these offence types are down approximately 25% compared to this time last year.
"Most break and enters occur when homes are empty," pointed out Feenan. "With everyone sheltering in place the opportunity to commit these type of offences has gone down."
However, he reminds residents to ensure garages and sheds are kept secure, to reduce crimes of opportunity.
Thefts from auto were down slightly in the first quarter, down 2% from the same time last year. A spike in January served to keep the numbers higher. There were 200 thefts from auto reported to police in the first three months this year.
Fewer cars on the road, particularly in March, saw Delta Police handing out fewer traffic violation tickets, down 14% from the same time previously. This number was down even further in April, as Delta Police had to adjust to challenges posed by COVID-19, and shift the approach to enforcement, as well as officer practices.
Fortunately, fewer cars on the road also meant fewer collisions, with collisions down 22% in the first quarter, at 240 collisions reported to police. That trend continued through April, which had the fewest amount of collisions in a month in a single year, with just 41 collisions.
In late March, Delta Police started to analyze how COVID-19 is impacting service delivery in terms of calls for service. The majority of calls to date so far involve social distancing complaints, followed by well-being checks due to COVID-19 isolation and also concerns of youths in parks.