DEB Schulte, federal Minister of Seniors, on Monday announced over $9 million of investments in seniors in B.C. through the New Horizons for Seniors Program (NHSP).
She said that over the coming year close to 300 projects across the province will receive a total of more than $5.3 million from the NHSP's community-based stream to help improve the well-being of seniors and foster their social inclusion. These projects will help ensure that seniors in British Columbia can benefit from, and contribute to, the quality of life in their communities through active living and participation in social activities.
Schulte made the announcement at the Progressive Intercultural Community Services (PICS) Society. PICS will receive nearly $4 million in funding for a project to increase the social inclusion of multicultural seniors aged 55 and older in Surrey. The project is funded through the NHSP pan-Canadian stream.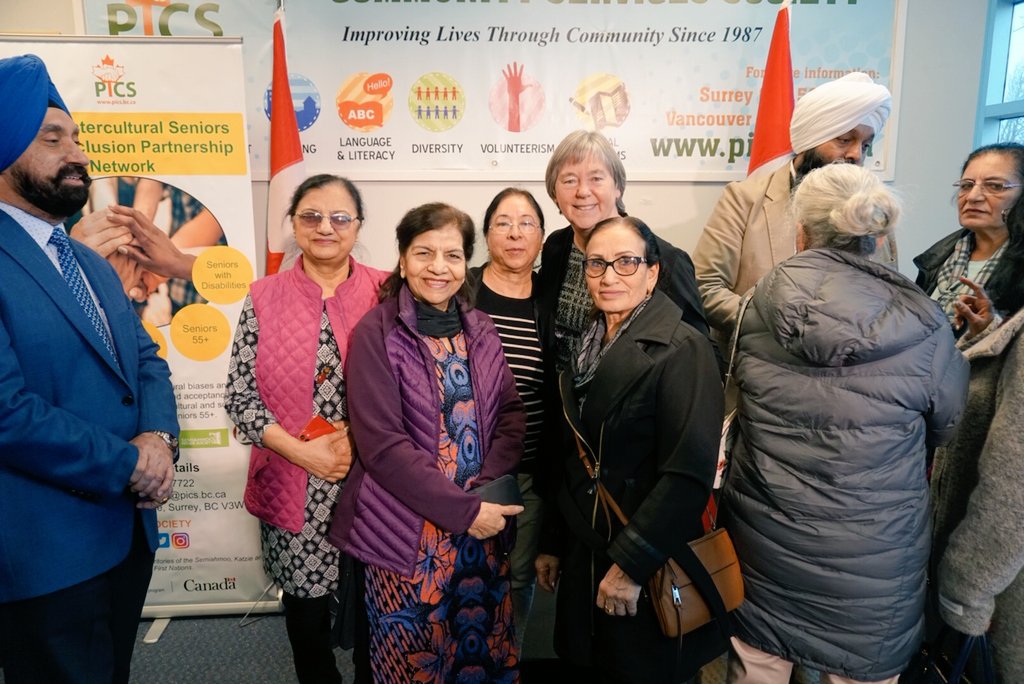 In collaboration with key community organizations from the public and not-for-profit sectors, PICS will develop and implement a plan to improve access to communication, awareness, recreation, technology and transportation programs and services for multicultural seniors. In the context of this project, PICS will design project initiatives to better integrate these services for socially-isolated multicultural seniors in Surrey, so that they have more opportunities to be active and engaged in their community.
The NHSP is a federal grants and contributions program whose goal is to support projects that help improve the well-being and quality of life of seniors, and foster social inclusion and engagement of Canadian seniors in their communities. Budget 2019 invested an additional $100 million over five years in the NHSP.
"The social isolation of seniors has real costs on them and their communities. That's why the Government of Canada is committed to keeping seniors engaged and active. We're proud to work with the Progressive Intercultural Community Services Society in Surrey and other fantastic local partners around the province to provide programs and services for seniors that are designed to meet their needs. When seniors are respected, valued and included in our communities, their health and well-being is enhanced and our communities benefit," said Schulte.
"Seniors have so much to offer, and we must ensure our communities remain vibrant, inclusive places for them. I am proud of the Government of Canada's investments with our partners, like the Progressive Intercultural Community Services Society, to ensure our communities offer great activities and services to keep seniors active and engaged," noted Sukh Dhaliwal, MP for Surrey—Newton.
"We are very excited to have received funding from the New Horizons for Seniors Program to lead this Collective Impact initiative. Our aim, together with our partners and community members, is to break the systemic barriers to social inclusion and to make Surrey an interculturally inclusive and engaged community for its seniors. This is a great opportunity to address gaps and barriers around social isolation by leveraging the strengths of different organizations in Surrey and together, effecting collective change," added Satbir Cheema, Chief Executive Officer, Progressive Intercultural Community Services Society.
Quick Facts
Seniors are the fastest-growing demographic group in Canada. By 2037, the number of seniors will reach 9.6 million, representing close to one quarter of Canada's population
The Progressive Intercultural Community Services (PICS) Society project will run until August 29, 2024. PICS has identified several initial collaborating organizations at this stage, which include the City of Surrey, Seniors Come Share Society, Sources Community Resource Society, Semiahmoo House Society and Fraser Region Aboriginal Friendship Centre. Other collaborating organizations may be identified in the first year of the project.

The NHSP has two funding streams: one for community-based projects and one for pan-Canadian projects.
The NHSP pan-Canadian stream supports multi-year projects that create a significant impact in communities and invest in large initiatives that meet the growing social needs of seniors. The Government of Canada is investing $13 million per year to support NHSP pan-Canadian projects.

The community-based stream funds projects that empower seniors in their communities and contribute to improving their health and well-being. The Government of Canada is investing approximately $50 million per year for projects that help community groups put on exercise classes, community kitchens, financial literacy classes and other local programs that keep seniors engaged and healthy.

Since 2004, the NHSP has funded more than 26,300 projects in hundreds of communities across Canada, with a total Government of Canada investment of over half a billion dollars.