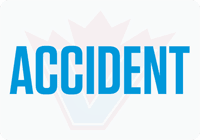 BURNABY RCMP, along with WorkSafeBC, are investigating a serious workplace incident that has left a flagger in the hospital with serious injuries.
At 11 a.m. on Wednesday, Burnaby RCMP frontline officers responded to a report of a workplace incident where a traffic flagger was struck by a commercial vehicle. The incident occurred at a worksite on Ellesmere Avenue, north of Hastings Street. The flagger was taken to hospital where she is receiving treatment.
Ellesmere Avenue between Hastings Street and Capital Drive will be closed for quite some time.
"This is an unfortunate event that will affect many people. Our thoughts are with the victim in the hospital," said Cpl. Mike Kalanj. "If you witnessed this incident or have dashcam video of the incident, please come forward and speak to our investigators."
Burnaby RCMP are asking that anyone who may have witnessed this collision or potentially have dashcam video in the area when the incident took place to contact Burnaby RCMP at 604-646-9999.