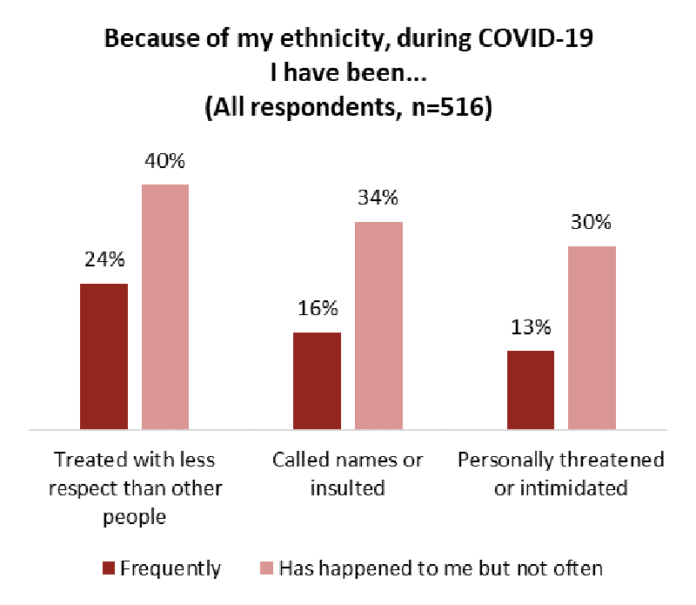 IT has been referred to as the "shadow pandemic" in Canada. As COVID-19 indiscriminately touches people in large communities and small households, it has brought another kind of virus – one that does discriminate – to the doorsteps of only some Canadians.
That virus is racism. Across the country, assaults, verbal threats, graffiti and worse – all directed at people of Chinese (and other East Asian) descent – have been reported since the pandemic was declared.
Now, in the first study of its kind since the pandemic was declared, new data from the non-profit Angus Reid Institute in partnership with the University of Alberta reveals the experiences and emotions of those directly affected.
Results from this survey of more than 500 Canadians of Chinese ethnicity underscore the extent and depth to which they have been exposed to discriminatory behaviours, and the effect on their own sense of self and belonging in this country.
Half (50%) report being called names or insulted as a direct result of the COVID-19 outbreak, and a plurality (43%) further say they've been threatened or intimidated.
Additionally, three-in-ten (30%) report being frequently exposed to racist graffiti or messaging on social media since the pandemic began, while just as many (29%) say they have frequently been made to feel as though they posed a threat to the health and safety of others.
It is perhaps unsurprising then, that a majority believe Canadians in general blame people of Chinese ethnicity for COVID-19, or that just 13 per cent believe others in this country view them as fully Canadian "all the time".
More Key Findings:
Six-in-ten (61%) say they have adjusted their routines in order to avoid run-ins or otherwise unpleasant encounters since the COVID-19 outbreak began
Two-thirds (64%) report feeling coverage from North American news outlets has led to negative views of people of Chinese ethnicity in Canada
Just over half are worried that Asian children are going to be bullied when they return to school due to the COVID-19 outbreak