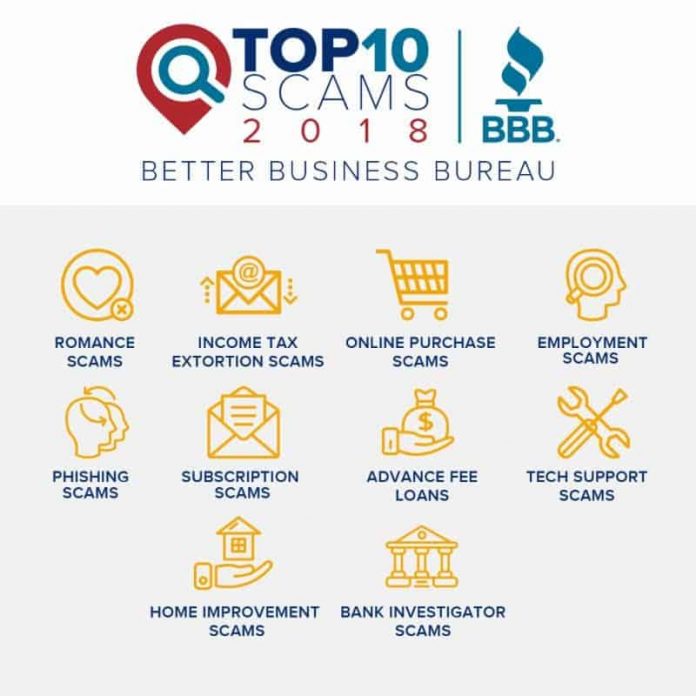 CANADIANS lost over $121 million to scammers in 2018, moving up from $95 million in 2017, and more than doubling the amount from 2015.
While the losses continue to trend upwards, the percentage of victims that actually come forward to report the crime is still less than 10%, suggesting that actual losses are somewhere in the range of $3 billion this year.
"In the past, people believed scammers only targeted seniors, however, the statistics are telling a different story,' says Danielle Primrose, President and CEO of Better Business Bureau (BBB) serving Mainland BC and representative for BBBs across Canada. "Scams are evolving – they are more aggressive, devastating, convincing and there is now a scam for everyone. Scammers are bolder than ever, which is why we need to keep informed and take proactive steps to protect our information and finances. I cannot stress enough how important it is to report every instance of scams and frauds."
For over 25 years, BBB's National List of Top 10 Scams has been instrumental in promoting scam awareness and fraud prevention across Canada. This year's list was generated using key information from the BBB Scam Tracker, critical concerns highlighted by BBB's community partners and sponsors, as well as collaborative input from the 10 BBB's in the country and the Canadian Anti-Fraud Centre.
This year, there are three new scams that have hit the Top 10 radar, as well as one scam that has evolved and extended its impact in such a way that it has earned the number one spot.
The Top 10 Scams of 2018
Romance scams
Income tax extortion scams
Online purchase scams
Employment scams
Phishing
Subscription scams
Advance fee loans
Tech support scams
Home improvement scams
Bank investigator scams
For more details on the Top 10 Scams and tips to avoid them, visit bit.ly/top10scams.
Reporting scams and frauds plays a vital role in assisting law enforcement and organizations like BBB to gather accurate statistics, as well as track, apprehend and prosecute criminals. If you are a victim or you have encountered a business or offer that sounds like an illegal scheme or fraud, tell BBB about it by visiting www.bbb.org/scamtracker. Scam Tracker not only allows you to report scams, but to also identity the ones that may be operating in your area.
Make cybersecurity a priority by regularly changing the passwords to your online accounts. Using strong passwords and changing them every few months makes it difficult for scammers and hackers to gain access to confidential information. On March 15, try changing the passwords for the top 3 online accounts you would not want to get hacked. Celebrate BBB Password Day by using #bbbpasswordday to show you have changed your passwords and that you are promoting proactive cybersecurity.