MANY members of the South Asian community are angry that Nadeem Afzal Chan, Spokesperson of Pakistani Prime Minister Imran Khan, as well as Liberal MPs from Surrey, Randeep Sarai and Sukh Dhaliwal, brazenly defied social distancing as they were part of a large gathering sitting close to one another at a meal in a Surrey restaurant (see photos).
In one photo sent to The VOICE, Sarai is seen wearing a mask, and in another he is posing without a mask (in another related event) – apparently publicity matters more than respecting health guidelines during the deadly COVID-19 pandemic.
One Pakistani Canadian's Facebook called it a meet and greet session with Chan that was jointly organized by the "PC [Pakistani Canadian] Community Association and the Fop [Friends of Pakistan] Canada Association."
It added: "Please [note] Mr. Chan is visiting Vancouver on the special invite from FOP Canada and PC community association."
Sarai also made a special presentation to Chan.
Ironically, BC Liberal Leader Andrew Wilkinson sent a message to the gathering expressing his regrets that he would not be attending but adding: "In these unprecedented and uncertain times, it is my hope that you are able to host a successful and socially distanced community dinner and that Mr. Nadeem Afzal Chan is able to witness the incredible work you do here in our province."
Wilkinson also thanked all those who "worked hard to make this event come to fruition within the guidelines set out by the Provincial Health Officer."
We will have to wait and see if this gathering results in the spread of COVID-19.
ON Sunday The VOICE received an explanation from Khalid Hussain Chohan and here is our response:
Khalid Hussain Chohan writes that before MP Randeep Sarai made a presentation to Nadeem Afzal Chan, "the guests were sitting at a social distance all the time and they came closer for a few seconds without masks to take a picture. You can see our VP is standing at a distance behind. During our program, we followed all the procedures and guidelines recommended by the BC government."
Even if we believe that explanation, the fact is that to take off their masks for even a few seconds / minutes is enough to spread the virus.
Chohan also writes: "In the other pictures below, you can see the MPs wearing masks and Mr. Nadeem Afzal Chan is clearly standing at a distance apart.  The main conference hall picture that you highlighted, is a picture of a restaurant where we were invited as guests. Obviously, guests were not responsible for the business operating procedures, but we were aware of the Government recommendations. Therefore we were sitting at a distant and gathered just for a picture taking."
That is hard to believe as the photo clearly shows the plates and the cutlery placed on the table for a meal. Also, again, why didn't anyone – except for MPs Sarai and Sukh Dhaliwal – have on masks? It just takes a few seconds to pass the virus on. And, yes, MPs are responsible for making sure rules are followed. They are not just any guests.
Also, outside, except for the MPs, no one else had masks!
Chohan writes: "The pictures you falsely related to the two associations in the post do not belong to our event."
But that was what was mentioned in the Facebook post put up by a prominent member of the Pakistani Canadian community (see photo).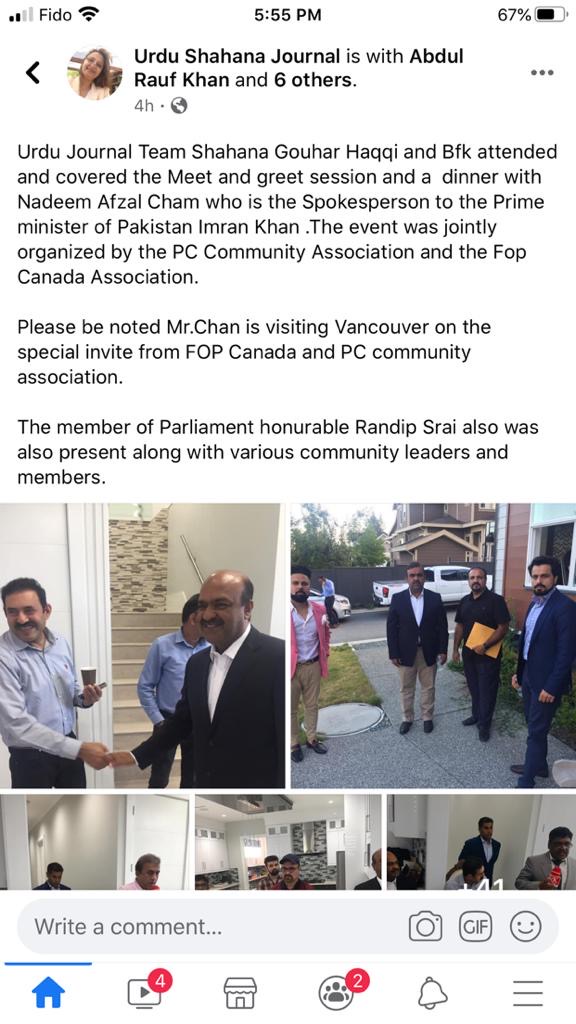 Chohan writes: "Also, for your information, Mr. Chan is permanent resident of Canada, and does not require Canadian Visa. He is fellow immigrant like you. He has been in Canada for more than a month. He is perfect in health and does not have any COVID-19 symptom at all."
In any case, this doesn't matter, distancing rules to protect ALL Canadians must be observed.