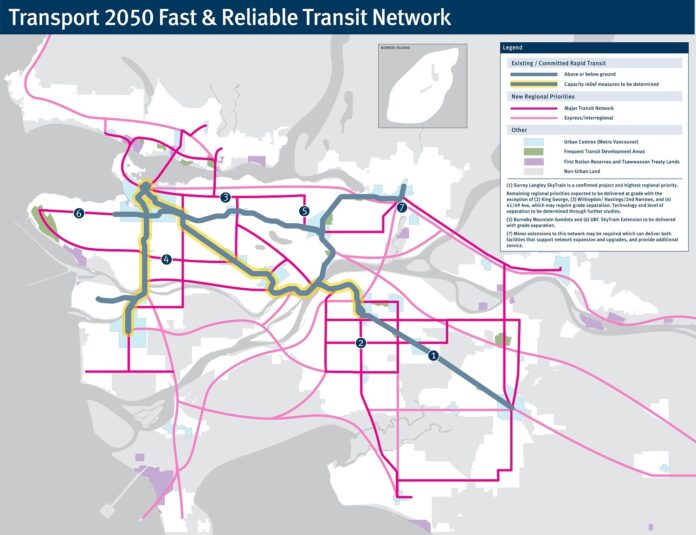 Final engagement period closes Friday, October 29
THERE is one week left to participate in the engagement process for Transport 2050, the blueprint for regional transportation decisions over the next three decades. TransLink recently released a draft Transport 2050 strategy which lays out over 100 recommended transportation actions over the next 30 years. In this third and final round of engagement, it is asking for public input on the draft strategy before it is updated and finalized. 
Some of the key recommended actions it is seeking input on include:
* Quadrupling the rapid transit network.
– Through constructing approximately 300 kilometres of new rapid transit, such as SkyTrain, subway, light rail, or bus rapid transit.
* Completing an 850-kilometre traffic-separated Major Bikeway Network to connect communities with greener, healthier transportation options.
* Promoting electric and shared vehicles such as bikes, scooters, and cars
The draft strategy was built through TransLink's largest–ever public engagement, a two–year process which has collected over 36,000 surveys and over 4,000 ideas from people across the region at over 300 in–person or online events.
During the previous rounds of public engagement, TransLink engaged directly with Indigenous Nations, members of the public, representatives from all levels of government, and many more stakeholders throughout Metro Vancouver.
Following this third and final round of engagement, the draft strategy will be updated and sent for final approval to TransLink's board and the Mayors' Council on Regional Transportation. 
Members of the public are invited to learn more, complete a survey, or register for an online open house by visiting transport2050.ca.
More information:
Transport 2050 website and engagement link
Transport 2050 summary document download link