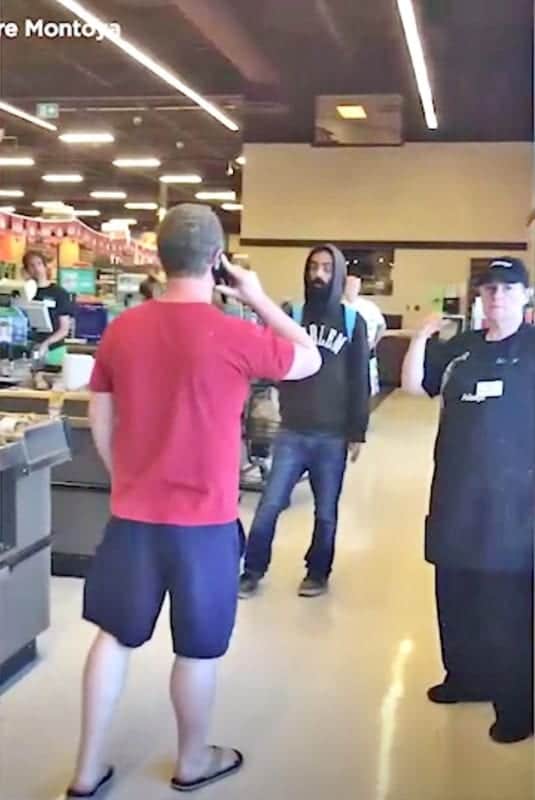 At my local Sobey's , ( LONDON ONT. NORTH LONDON STORE) a man accuses the young man of being an "illegal alien" & won't allow him to leave the store. Continues to push the young man to force him to stay in the store as he has called the police & wants the police to come to the store for the young man (while he has done absolutely nothing) .. he continues to ask if he's scared to be deported & asked the young man to show his Canadian documentation, & tells him if he leaves the store he will conduct a "citizens arrest" on behalf of the police. ??‍♀️ … I see a lot of comments of people wondering if he was shop lifting, he was not, he rightfully PAID for his items.

Posted by Katie Pocasangre Montoya on Tuesday, July 17, 2018
THREE charges have been laid against a 39-year-old man in relation to an incident at a north London grocery store that occurred on July 17 and involved "race-related comments."
London Police said on Tuesday that as a result of the ongoing investigation and consultation with the Crown Attorney's Office, it was determined that there is evidence to support proceeding with the following Criminal Code of Canada charges against Phillip McLaughlin, 39, of London: assault; forcible confinement; and causing a disturbance.
McLaughlin attended London Police Headquarters on July 30 and was released. He is scheduled to appear in a London court on September 12 in relation to the charges.
A police spokesperson told the media that although the victim did not want to press charges, officers with the force's hate crime unit decided to go ahead their investigation. The hate crime aspect affects the sentence if an accused is convicted and the incident is judged to have been hate-related.
As had been reported earlier in The VOICE, on July 17. at approximately 7 p.m., police responded to a grocery store – Sobeys store in the city's north end – for reports of two males arguing inside.
Police attended and determined that a prior argument had occurred inside the store between two men. A second interaction that was recorded on video and posted on social media, occurred between the males at the checkout.
No injuries were sustained and both males left the store peacefully.
The victim in this matter chose not to proceed with charges in regards to the incident. As a result, police at the time warned the other male for assault and no charges were laid.
Race-related comments were reported to have been made during the interaction. The London Police Service Hate Crime Unit was reviewing the incident.
Katie Pocasangre Montoya, who first posted the video of the encounter on her Facebook, wrote:
"At my local Sobey's … a man accuses the young man of being an "illegal alien" & won't allow him to leave the store. Continues to push the young man to force him to stay in the store as he has called the police & wants the police to come to the store for the young man (while he has done absolutely nothing) .. he continues to ask if he's scared to be deported & asked the young man to show his Canadian documentation, & tells him if he leaves the store he will conduct a "citizens arrest" on behalf of the police.  … I see a lot of comments of people wondering if he was shop lifting, he was not, he rightfully PAID for his items."