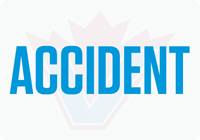 SURREY RCMP are advising the public of the road closure of the 14000-block of 88 Avenue between 140 Street and 142A Street.
On Monday at approximately 6:14 p.m., Surrey RCMP responded to a single-vehicle collision on 88 Avenue, east of 140 Street. The vehicle involved was traveling eastbound on 88 Avenue from 140 Street when it drove up onto the sidewalk and struck a pedestrian.
Surrey RCMP members arrived on scene and provided first aid care to the pedestrian, who was subsequently transported to hospital with minor injuries. Police said 88 Avenue is expected to be closed until approximately 10 p.m. for investigative purposes.
Surrey RCMP are advising that there will be traffic congestion in the area until the scene has been processed, and the vehicle towed from the scene. Local area buses will be re-routed.
At this time in the investigation, it appears speed was a factor in this incident, and the driver has been taken into custody, pending the investigation.
If you were in the area and have information, you are requested to contact Surrey RCMP. Anyone with more information, including dash cam footage around the area, is asked to contact the Surrey RCMP at 604-599-0502.