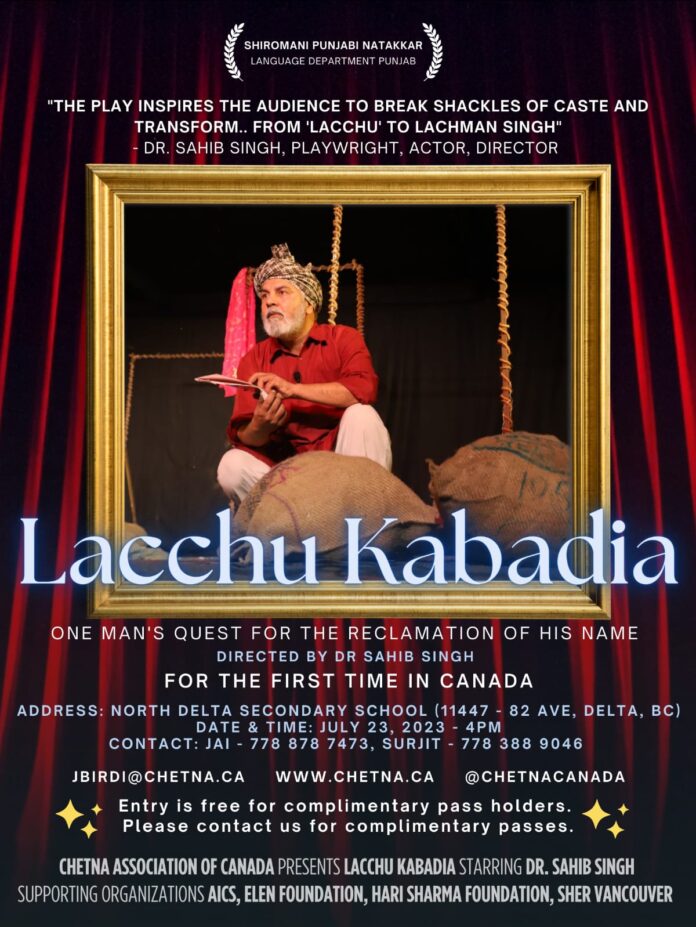 CHETNA Association of Canada is hosting a Punjabi play, "Lacchu Kabadia", on Sunday, July 23, at North Delta Secondary School. The play is written and directed by a prominent visiting artist from Punjab, Dr. Sahib Singh, who also acts in it.
Free admission is available with complimentary passes.
Singh says: "The play is being well received by the audience.  It serves as an educational tool to reassess the impact of the age-old caste system on the Indian subcontinent, and more recently, across the globe.  Everyone can relate to the topic of the play regardless of their position in the caste hierarchy."
He adds: "It also inspires people negatively impacted by the caste system to rise, be empowered, and break the shackles of the caste system and live a life of dignity."
Singh has written and directed many plays and short films and also acted in them. Naam Likhari Nanaka, Samey di Daang, and Gurpurab are just a few of his works.
In 2020, he received the Shiromani Punjabi Natak Award, the highest award in this category, by the Punjabi Languages Department of Punjab.