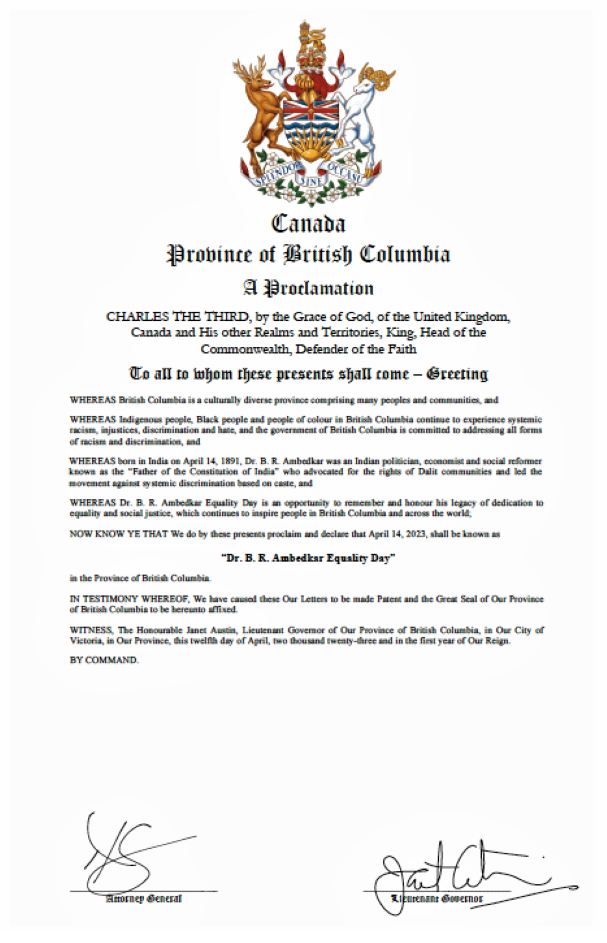 THE Chetna Association of Canada said on Wednesday that both the Dalit History Month (April) and Dr. B.R. Ambedkar Equality Day have now been proclaimed by the Province of British Columbia for 2023.
Last week, the Province of BC proclaimed April 2023 as Dalit History Month. Now, the Province has proclaimed April 14 as Dr. B.R. Ambedkar Equality Day.
This is in addition to City of Burnaby proclaiming April 14, 2023, as Dr. B.R. Ambedkar Day of Equality in Burnaby.
April 14 is the birth date of Dr. Ambedkar, a renowned champion of social justice through education.
The strategy of enhancing awareness of the value of equality was started in Canada in 2020. This strategy complemented the work already being done by a number of local groups and organizations, including the delivery of the Dr. Ambedkar Memorial Annual Lecture Series since 2016.
Various events will be hosted from April 21 to 26 in the Lower Mainland, Victoria and Abbotsford. A gala reception is being planned for April 23 at Vancouver's Fraserview Banquet Hall by the Ambedkarite International Coordination Society and Chetna Association of Canada.
For more information, visit www.aae2023.ca.