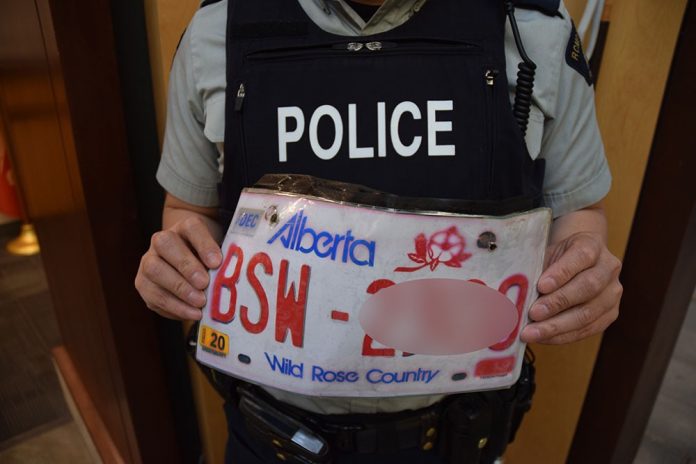 WANTED: Unknown couple in Port Coquitlam. May have access to a colour photocopier. Last seen driving a grey 2005 Nissan Altima with a paper Alberta licence plate.
Coquitlam RCMP would like to speak to a man and woman who were involved in a single-vehicle collision on January 8 at about 8:20 p.m. on the Mary Hill Bypass near Shaughnessy Street, Port Coquitlam. The couple's car had crashed because it lost a wheel. When police officers arrived on scene, they found one of the worst licence plate forgeries they had ever seen hidden under a licence plate cover.
"One reason that licence plate covers are illegal in BC is that they are often used to obscure what's underneath," said Cpl. Michael McLaughlin on Monday. "At first blush this licence plate is terribly funny, but there are serious consequences. People with forged plates are often driving with no insurance, or their vehicles are not roadworthy, or both. That's both unsafe and unfair to other road users who follow the rules and pay their premiums."
The couple involved in the collision quickly left the scene when police arrived. The car has been seized for disposal.