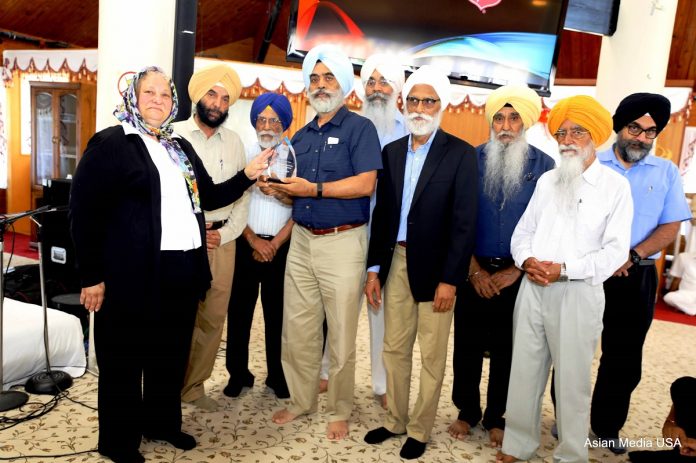 PALATINE, Illinois: Sikh Religious Society, Palatine, Illinois, was honored by Salvation Army with a "Life Time Service Award" on Sunday, July 14, Sarwan Singh Raju was also honored with "Making the Difference Award" by the Salvation Army. Palatine is a suburb of Chicago.
The Salvation Army International is a major Christian missionary organization that has been serving for more than 150 years in more than 130 countries, working towards social justice, helping the elderly and homeless young people and more.
Sarwan Singh has been mobilizing the Sikh community of greater Chicago area for over two decades to participate in the events organized by Salvation Army for feeding the poor on Thanksgiving Day and Christmas Day celebrations.
Major Nancy Powers of The Salvation Army, Chicago, visited the Sikh Religious Society (SRS) Gurdwara in Palatine and presented plaques of honor to SRS and to Sarwan Singh for coordinating the Sikh community in donating and serving food to the needy families on Thanksgiving Day and Christmas Day celebration events at Salvation Army in Chicago since 1992.
Sarwan Singh and Hardial Singh Deol have spearheaded these activities, continuing the tradition of "langar" started by Guru Nanak Dev, the founder of the Sikh faith.
The gurdwara in Palatine is the first ever Sikh organization, at least in Midwest America, to receive a "Lifetime Service Award" from a non-Sikh worldwide organization like Salvation Army.
"What could be a better tribute to Guru Nanak Dev Ji when a highly reputed Christian missionary organization, Salvation Army, appreciates the Sikh community for their generosity, in the year of his 550th Birth Anniversary," said Dr. Pardeep Singh Gill, SRS President
Gill and trustees Prempal Singh, Gurmit Singh Bains, Irwinpreet Singh, Amardev Singh Badesha, Jairam Singh Kahlon, Dr Balwant Singh Hansra and Gurdip Singh Sangha, received the plaque from Powers.
This stems from the values Sikhs imbibe from their faith. Helping and serving the needy is one of the core principles of Sikhism. Guru Nanak Dev Ji postulated three cardinal principles for humanity:
a) Remembering God (Naam Japana); : There is only one God, Creator of the Universe. Always remember him. All of us are his children. No one is superior than the other.
b) Earn your living by honest means and hard work. (Kirt Karani): Sikh believe in dignity of labor, lives as a householder, engaging in physical and mental activities and accepting the earnings as God's blessing.
c) Share your earning with the needy (Vand Chakana): Sikh Gurus ordained that every Sikh should donate one tenth of earnings to charity, irrespective of the race, religion, gender, color, etc.
Guru Nanak demonstrated this through his own life, while he did agricultural farming by his own hands at Kartarpur and said:
"Work hard and share your earnings with others

  That is the only way to find  The Right way leading to God "
(Page 1245 Shri Guru Granth Sahib)
Guru Nanak Dev Ji always stood beside the needy and exhorted blessed one's to share one tenth of their earning for upliftment of under-privileged.
"Aap gavaaye sevaa kare taa kichh paaye mann" _ _ _ GGSJ Pg. 474
A person develops a sense of humility while doing service. Service is surrendering one's ego and giving oneself to the Guru. "By doing service one loses his egoistic nature and thereby gets respect from the society." Giving donations from one's earnings is another form of Sewa. One must share his earnings with the poor and the needy (Wand Chhaknaa). This is one of the "Three Golden Rules" of Sikhism.
      "Nanak agai so milai je khate ghaale deye" . . . . .  . . .  GGSJ Pg. 472
Guru Nanak says, "You get in future the reward of charity given out of your earnings, earned by honest means and hard labor."
The community members who regularly supported these events included Sarwan Singh, Hardial Singh Deol, Iqbal Singh Chopra and his wife, Thakar Singh Basati, Jasbir Singh Bhalla, Shiva Singh Khalsa and his wife Shabad Kaur, Dr Jasvir Kaur, Amardev Singh Badesha, Kuldeep Singh Makker, Kamaljit Singh Virdi, Khushpal Singh Sodhi, Kuldip Singh Sibbal), Laddi K. Singh, Sukhmel Singh Atwal, Gur Singh, Surinderpal Singh Kalra, Jairam Singh Kahlon, Lakhbir Singh, Onkar Singh Lal, Kuldip Singh Sra, Lal Singh, Geeta Singh and many more.
Amardeep Singh Chawla and his wife Timki Kaur and their family have been contributing vans full of canned food and distributing food to the visitors at Salvation Army during these events.
The right way of paying tributes to Guru Nanak Dev Ji, when we are celebrating his 550th Anniversary, would be to spread his message to masses, to serve the needy in all communities.
"To practice the ideals of Guru Nanka, we must carry out some of our service activities out of gurdwaras, participating in the American mainstream community events like Thanksgiving Day, Christmas Day, and in national parades (like Memorial Day parade), inter-faith activities and get civically engaged," said Sarwan Singh. "Such events could serve as an example and inspiration for other gurdwaras in US to follow suit. It will greatly help in creating awareness in American public and dispel the misconceptions about the Sikhs."