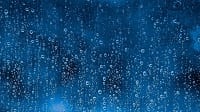 RAINCOUVER is going to go musical – with every drop of rain, you are going to love it more (with apologizes to some songwriter)!
The City of Vancouver is inviting residents to celebrate their rain by sharing ideas for designs they'd like to see appear on the ground in public spaces during Vancouver's rainy months. "It's just one way we're working to create a city that sings in the rain!" says the City.
The contest invites ideas that will brighten up the city and add a bit more fun to the public spaces every time it rains, with categories that celebrate some of Vancouver's best qualities – public space, sustainability and resiliency, and its relationship to water.
Rain paint is a special paint that is applied to concrete and can only be seen when the concrete becomes wet. The paint can be applied to streets and public spaces and typically last three months.
Three locations have been selected throughout Vancouver for the rain paint designs. Each location celebrates a rain- and water-related theme and provides an opportunity for residents to travel into different neighbourhoods around town:
Helena Gutteridge Plaza – Public Space
63rd and Yukon- Green Infrastructure
Olympic Village – Water Quality
Residents are asked to submit ideas for these themes to vancouver.ca/rain-paint-contest. Submissions can take the form of drawings, poems, games, concepts or any other idea that can inspire a rain paint stencil.
Winning submissions will be chosen by designer Jeff Kulak in partnership with City of Vancouver's Engineering artist-in-residence, Germaine Koh. Rain paint stencils will be designed by Jeff Kulak using the winning ideas as inspiration.
The contest closes August 17. Residents can expect to see rain paint designs appear in public spaces starting in fall 2018.