ON Tuesday (October 22), at 7:25 pm, Abbotsford police patrol officers responded to the 31700-block of South Fraser Way for reports of shots fired.
Two vehicles involved in the shooting had fled the scene by the time the officers arrived at the scene. Shortly afterwards, police were called to a car fire a short distance away. It is believed that the burning vehicle was one of the vehicles involved in the shooting.
A CTV news report on Tuesday night said the shooting took place at a gas station.  It said a black BMW SUV at Abbotsford Regional Hospital had blown out tires, a smashed windshield and what appear to be bullet holes in the driver side window with visible damage to the front of the vehicle. The vehicle that was set on fire was on Queen Street near Peardonville Road.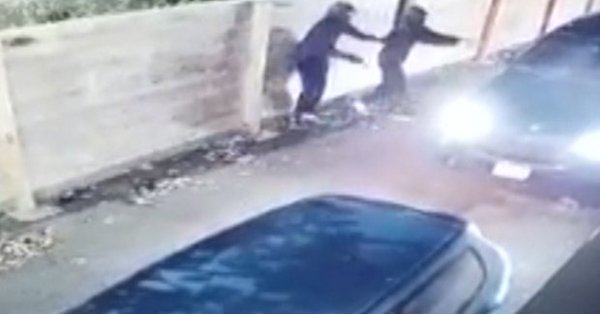 Later, CTV obtained video footage that shows how innocent victims could have been killed. It shows two people with their faces partially covered approach a dark-coloured SUV in the line-up at a Tim Hortons drive-thru. The two raise their arms and point something at the vehicle. The SUV then takes off, hitting a car to escape.
While officers were responding to both incidences, a report was received that a shooting victim had arrived at the hospital in a vehicle with noticeable gunshot damage. Officers arrived at the hospital to find a South Asian male in his early 20's suffering from non-life-threatening gunshot injuries.
Major Crime Detectives and the Forensic Identification Section are continuing to investigate this incident and the vehicles have been seized for further analysis.
Abbotsford Police believe that this is a targeted shooting but the motive is unknown at this time. Police are appealing to anyone with information about this incident to call them at 604-859-5225, text them at 222973 (AbbyPD), or to report anonymously to CrimeStoppers at 1-800-222-8477(TIPS) or online at solvecrime.ca.