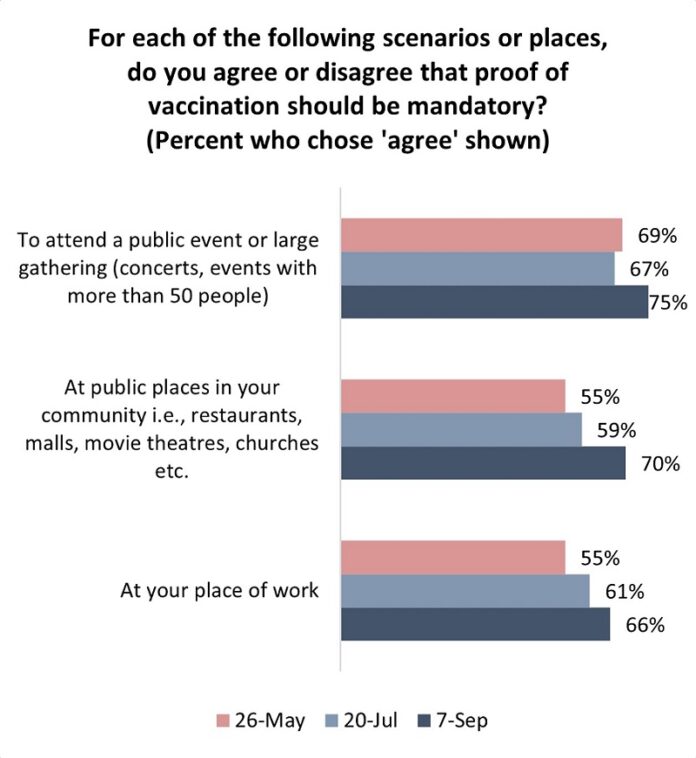 NEW data from the non-profit Angus Reid Institute finds rising support for mandatory vaccinations to enter public spaces as Canadians – the vast majority of whom are vaccinated – look for ways to end the fourth wave and the renewed restrictions that have accompanied it.
Perhaps most surprisingly, support for proof of vaccination in public spaces is now a majority opinion in both Alberta and Saskatchewan, where Premiers Jason Kenney and Scott Moe have denounced the idea. In fact, 54 per cent of Albertans now support proof of vaccination in public spaces, up from just 40 per cent in late July.
Frustration within the largely vaccinated public is clear, with unvaccinated Canadians filling ICUs and forcing the continued cancellation of elective surgeries in multiple provinces. Now, half of vaccinated Canadians (46%) say that they do not believe that unvaccinated individuals should receive the same priority for treatment if they are sick with COVID-19. This worst case scenario has been discussed in some American jurisdictions as ICU capacity has diminished, but so far triage based on vaccination status has remained only a discussion.
More Key Findings:
Canadians prefer sticks over carrots to encourage the unvaccinated to get the jab. Three-quarters (77%) say provincial governments should use regulatory measures to increase vaccination, while one-in-three (33%) say governments should use incentives.
One-in-five vaccinated Canadians (19%) believe those who refuse to show proof of vaccination at a public place, and refuse to leave the premises, should be arrested and charged with a crime. The largest group (44%) would prefer that the person be escorted off the premises but not punished further, while 29 per cent would have them fined.
While most vaccinated people across the country are split on the question of whether or not those who refuse the vaccine should receive the same access to medical care as the vaccinated, two-thirds of vaccinated Atlantic Canadians believe everyone should receive the same priority of treatment.
The Angus Reid Institute conducted an online survey from September 3 – 6 among a representative randomized sample of 1,709 Canadian adults who are members of Angus Reid Forum. For comparison purposes only, a probability sample of this size would carry a margin of error of +/- 2.5 percentage points, 19 times out of 20. The survey was self-commissioned and paid for by ARI.