SURREY RCMP Sgt. Elenore Sturko told the VOICE on  Thursday that officers have collected statements from three more witnesses in connection to the July 28 incident in Aspen Park in which it was alleged that garbage was thrown at a group of South Asian grandmothers and their grandkids, who were subjected to racialized slurs that were captured on a cell phone and exposed by Sahiba Sangha on her Instagram page ( www.instagram.com/p/CSAc22tBjAm/ ).
Sturko said: "If there is anyone out there who is a witness who hasn't yet spoken to police – who is a direct witness – we would be asking them to come forward to provide us information."
She added that if anyone else comes forward, too, they are going to put all those statements together and if there is sufficient evidence of an assault, they will forward that to the BC Prosecution Service.
Sturko said that investigators will take a few weeks now to try and talk to as many people as they can, transcribe all the statements and look at all the evidence.
Video captured a woman shouting at the South Asian group: "The next time I see garbage I will flip more sh-t than just garbage … I don't give a sh-t if it's not yours." And a man says: "We are in Canada, you speak English. I don't understand what you are saying," and goes on to use obscene language.
On Tuesday, a large gathering of South Asians took place at the park to protest against racism and a video of it was posted by Sangha on her Instagram page.
(https://www.instagram.com/reel/CSJVc4sALt-/?utm_source=ig_web_copy_link)
THE VOICE reported on Monday on our website voiceonline.com that CTV reporter Bhinder Sajan reported on Sunday about the video that captured the altercation had been circulating on social media. Sahiba Sangha, the granddaughter of one of the victims, discovered that video from someone who didn't want to reveal their identity and she posted it to her Instagram page.
Sangha told CTV that she noticed that her grandmother's clothing appeared to be a bit dirty when she returned home from Aspen Park last Wednesday. Her grandmother told her that 'this couple came out and they started swearing at us and then they brought litter out from the garbage and threw it on us and the kids.'
An angry Sangha wrote on her Instagram post: "Elderly bibis of the south Asian community bring their grandchildren to this park every single day, my grandma has been taking my siblings and cousins there too for the past so many years. All of a sudden today a Caucasian couple picked garbage out of trash bin and started throwing it on brown kids playing there and then dirty bags from trash which had dog poop in it was thrown on these elderly women, who are OUR GRANDMOTHERS. Their fault? They don't speak English and sit in the middle of the park. The couple raged on these grandmothers continuously until the neighbours called the police. Thankfully it was all recorded. When the police officer came, he ignored the statements of all the brown kids present there who COULD COMMUNICATE in English and believed the couple's story of how all the trash present there was thrown by the bibis. When a mere 12 year old boy asked the officer "why didn't he punish the couple?" The officer replied "maybe they were having a bad day!". The officer then made the bibi's and kids pick up the trash thrown by the couple. IS THIS FAIR? #Racism needs to end. This country #canada if it's not ours, it's not yours either."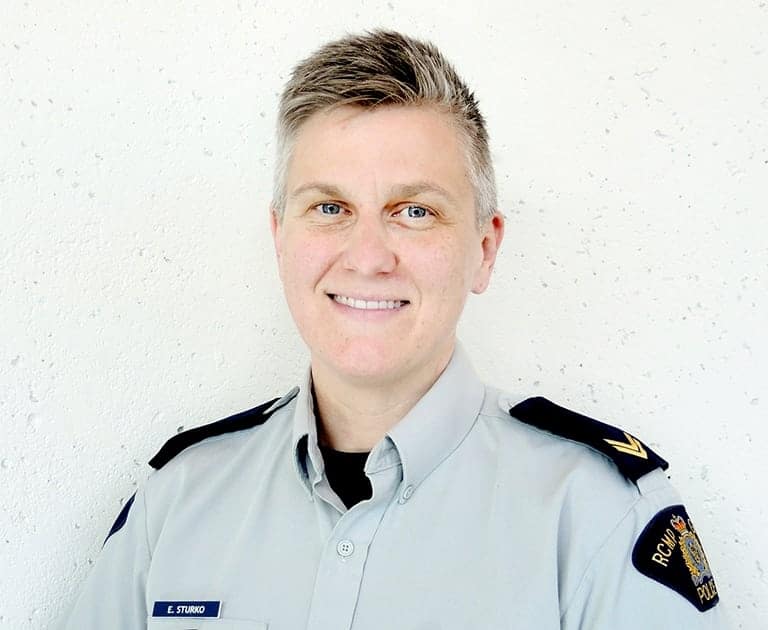 ON Tuesday, Sturko told the VOICE in reaction to our Monday report that according to the RCMP investigation at that stage no garbage was actually thrown at South Asian grandmothers, but added that they are still investigating the racialized slurs that were used against them in the altercation.
(Editor's Note: Witnesses to the incident have, of course, now come forward and we will have to wait and see what the RCMP investigators conclude as they go through those accounts.)
She said that the RCMP officers had been able to determine through their investigation that the July 28 incident "is actually sort of the boiling point of a dispute that had been happening for several days between that group and a number of other groups that use the same park."
She added that although the incident "escalated into the use of racialized language and racial slurs and inappropriate behaviour being displayed by parties involved," the RCMP believe that the South Asian grandmothers "weren't necessarily targeted as a result of their ethnicity."
Sturko said that the RCMP know the couple that used the slurs.
Asked if any action was being taken against them, Sturko said: "We are still investigating at this point. But our officers confirmed that no assault had taken place and we do know that there was a disturbance and during the disturbance there were racialized slurs used – insults – and it's something that we are taking a look at and continuing to investigate and we are also asking for people in the community to come forward if they have more information that they want to provide , not just about what happened on the 28th but the overarching issue about the conflict that's happening amongst the users of that park so that we can work on having a resolution to that."
She added: "Our officers have already been canvassing the neighbourhood to see if there is any other supporting videos that would perhaps provide more information in support of any charges, but at this point we are still in the evidence-gathering phase. But we keep on working together with the people involved in the incident to see if we can come to a resolution that at least allows people in the community to be in the same area and have a peaceful resolution to the situation."
Sturko claimed: "That interaction is something that boiled up after a couple of days of the dispute that relates to garbage and some issues with dogs in the park as well between that group and several other groups or individuals that were involved in the dispute over several days. Although we see a video, it's actually not an event in isolation – it's actually part of an ongoing dispute about the usage of the park."
She added: "But there is no excuse for that type of language. That's certainly not the way that we would want people to resolve their issue."
Sturko also claimed: "The officer did not make the people pick up the garbage. Actually, the officer started picking up the garbage and it was the kind elderly South Asian women who said 'no, no' they wanted to help clean it up. They actually helped. No one was being made to do it. They were not obligated and we were not by any means trying to force them to do anything, especially not pick up garbage."
Asked about the officer's alleged comment that the offending couple were probably having a bad day, Sturko said: "That's actually taken out of context. It's only part of a larger conversation. I talked to that officer this morning – he was speaking to a larger group of people that included children, people from the victim group and other people that had gathered after the incident … He was saying basically that he doesn't know why people would do something like that whether they have a bad attitude, whether they are having some kind of a bad day, but regardless of what their reason would be, it's not acceptable and [it's] inexcusable to use that type of language. It's actually just one tiny clip of a larger statement in which the officer condemned the use of that type of language. So it's quite misleading to have that in there."
Sturko said: "I think it's important contextually for people to know that it wasn't an incident … where they just simply saw some people using the park and then based on their ethnicity, targeted them for an attack. It was a really bad boiling over of a conflict that had been going on for a few days."
Asked about Sangha telling CTV that she noticed that her grandmother's clothing appeared to be a bit dirty, Sturko said: "We talked to the grandmother and we don't have any evidence to substantiate what Sahiba is saying. The thing is that she was not at the scene at the time. So when our officers who speak Punjabi spoke to the (elderly women), they never said that that happened to them. Sahiba also said that they got dog doo-doo thrown on them and we know that that's not the case either. … She said a lot of things, but we have been able to investigate that – a lot of the things that lady said were inaccurate."
Sturko added: "But the part that is accurate is that it is unacceptable to treat other people in this way – whether you are having a dispute or not, there is no excuse to use that kind of awful racial slurs and to treat people in a way that is degrading and disrespectful and we definitely would not condone that kind of behaviour."
Asked why the officer ignored the kids' statements, Sturko said: "The officer had multiple people that he was dealing with. He spent half an hour there. He told us too that he not only spoke with the kids to allow them to be heard and have their input – that he also handed out stickers to them and wanted to make to sure that they had a positive experience dealing with him. So I don't think it was a case of him shunning them. I do think that he was also approached by multiple people who were all very upset and he did the best that he could with the information that he had, but it's not concluded. The investigation is still ongoing and we will see what happens from here."