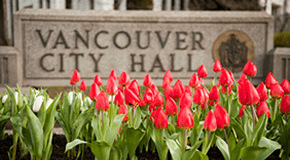 THE City of Vancouver on Monday launched the last phase of public engagement on its residential citywide permit parking initiative. The proposed Climate Emergency Parking Program is designed to:
Encourage people to purchase cleaner vehicles
Reduce air and carbon pollution
Fund climate emergency actions
The proposed program would also allow the City to respond more effectively to localized parking issues as Vancouver grows.
From June 14 to July 5, the City is asking residents for their feedback in a city-wide survey on the following proposed initiatives that work together and were shaped by input from the public and stakeholders earlier this year:
An annual pollution charge on high polluting vehicles (model year 2023 or newer) that would be added to the cost of annual parking permits
A new overnight residential parking permit(about $45/yr) that would apply to residential streets in the city that don't already require permits. This new permit area would allow the pollution charge to be implemented across the entire city, not just in existing permit zones
"With this proposed program, Vancouver would be joining a number of cities around the world that have implemented pollution charges for residential parking, including Sydney, Australia and Montreal," said Paul Storer, Director of Transportation. "Not only would this program substantially reduce emissions and help us reach our Climate Emergency targets approved by Council in November 2020, it can help us better manage our curb space to serve residential areas."
Over the next three weeks while the survey is open, the City says it is keen to learn from all residents whether they agree with the concept of a pollution charge and the dollar amounts being proposed depending on the vehicle type. The City is also seeking input on which vehicles should be exempted beyond older ones and those modified for wheelchair users.
Similarly, the City encourages residents to share their thoughts on the proposed residential overnight parking permit, including cost and how it would work for visitors. Feedback from across the city will help shape the recommendations brought forward to Council for decision later this year.
Burning gas and diesel in vehicles is a major contributor to climate change—accounting for 40 per cent of the carbon pollution generated in Vancouver. By encouraging residents to shift to electric or renewable fuel vehicles, the pollution charge would achieve about 10 percent of the emissions reductions the Climate Emergency Action Plan is striving to achieve through the switch to cleaner vehicles.
Pending Council approval, revenue from the program would help fund key climate actions such as making sidewalks safer and more accessible, improving bus speed and reliability, expanding public charging network for electric vehicles, adding more trees and greenspace, and converting buildings from natural gas to renewable energy.
The City says to take the survey to help refine the program before it goes to Council for decision later this year. If approved, the program would be implemented in 2022.