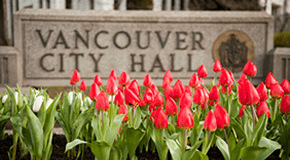 VANCOUVER residents experiencing homelessness are being urged to use the City's warming centres which will open Saturday in response to extreme cold weather. Warming centres are activated as a life-saving response for people sleeping outside during the city's coldest months.
"We have warm indoor space available for everyone, no one needs to sleep outside tonight," said Sandra Singh, General Manager of Arts, Culture and Community Services. "Anyone experiencing homelessness is welcome to come inside and get out of the cold. Warming centres will welcome everyone, and people can bring their pets, bikes, and carts with them."
Extra shelter space will be open at the following locations on Saturday, November 30 and Sunday, December 1:
· Directions Youth Services Centre – 1138 Burrard Street, for 15 youth (24 year of age and under), open between 10 pm and 7 am
· Evelyne Saller Centre – 320 Alexander Street, open between 10 pm and 8 am
· The Salvation Army Belkin House – 555 Homer Street, intake at 11 pm and breakfast at 7:30 am
· Walton Hotel Amenity Space – 261-B East Hastings Street, open between 8:30 pm and 7:30 am
Warming centres will be open at the following locations on Saturday, November 30th:
· Britannia Community Centre – 1739 Venables Street, open between 9 pm and 8:30 am
· Overdose Prevention Society – 58 East Hastings Street, open between 11 pm and 8 am (This location is an Overdose Prevention Site that provides harm reduction)
The three locations on East Hastings and Alexander streets in particular are in close proximity to Oppenheimer Park.
The City recognizes that the weather is worsening and this is leading to people taking dangerous measures to try and stay warm.
The City's Outreach staff continue to be at Oppenheimer Park regularly and are working to move people indoors. Currently the Outreach team is working with approximately 50 people who are experiencing homelessness and frequently sleeping in the park.
Warming centres are activated when the temperature reaches -5°C or below (or it feels like -5°C or below). Hot drinks and snacks will be available, and those with their own bedding may choose to sleep at the centre. Last year, up to 100 people accessed the City's warming centres on any open night.
Community centres and other public buildings are available during their opening hours as spaces to warm up during the day.
Since 2009, the City has partnered with the Province to open additional shelter space for the winter months. This year, more than 300 temporary beds are available. Those looking for shelter space can call 2-1-1 to check availability.
Extreme Weather Response shelters are also open tonight, offering an additional 145 spaces. These spaces are funded by BC Housing and are in addition to the temporary shelter spaces.
More information on the City's winter response is available here.
Please post this on your social channels. Each Centre has its own hours of operation. Please see below.
| | |
| --- | --- |
| Site | Nov.30 |
| Britannia Community Centre – 1739 Venables StWill open between 9:00pm and 8:30am. Drop-in site can accommodate everyone, and accepts pets, bikes, and carts. Hot beverages and snacks are available. No reservation required. | Open |
| Overdose Prevention Society – 58 East Hastings St; Will open between 11pm-8am. This site is an Overdose Prevention Site that provides harm reduction. Drop-in site; can accommodate everyone, and accepts pets, bikes, and carts. Hot beverages and snacks are available. No reservation required. | Open |