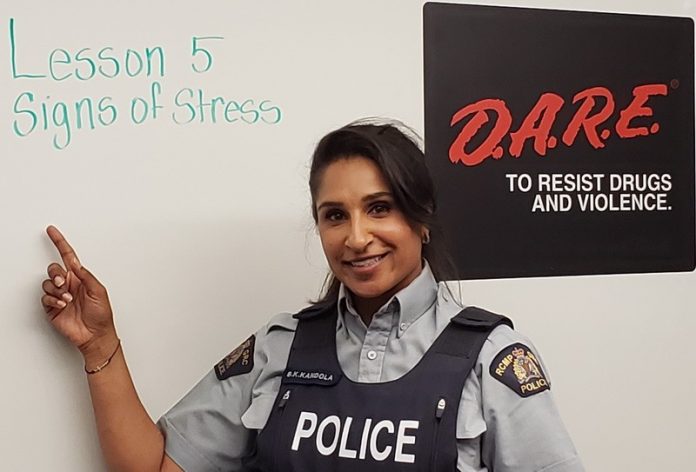 RICHMOND RCMP have taught DARE – Drug Abuse Resistance Education (DARE) Program – to all Grade 5 students in Richmond for 25 years. However, the pandemic almost brought that to a halt.
Fortunately, thanks to the passion and commitment of DARE officer, Constable Bal Kandola, this tradition has continued.
When the announcement to keep schools closed was first made, Kandola was disappointed at the prospect of not being able to teach the DARE program for the final term of the school year. As she says, however, where there's a will there's a way.
Kandola reached out to the Richmond School District and offered to provide the program in a virtual format. Since then Kandola has set-up her classroom in the Detachment and started recording her lessons.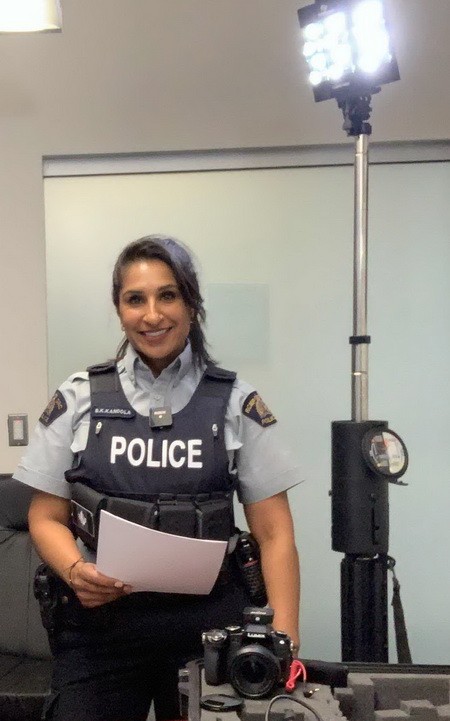 "We are presently living in an incredibly uncertain world and living some difficult moments," says Kandola. "I hope that my students are able to stay safe, healthy and positive and I felt I could make that happen by keeping things moving forward and giving them some sort of normalcy during this uncertain time."
The Drug Abuse Resistance Education Program is an internationally recognized drug prevention program. The keepin' it REAL program is for Grade 5 and 6 students and consists of 10 weeks of lessons. The goal of the program is to guide youth towards making healthy choices, not only about drugs, but in all areas of their lives.
While she has had to adapt to having an empty classroom, Kandola is extremely happy that she is able to continue to provide this valuable program. "It's been an adjustment to go online but I am so thankful that I'm able to reach my students," says Constable Kandola. "I love teaching them so many great life lessons and giving them the tools which they can utilize in life.
As Kandola points out, however, the teaching is not a one-way street. "I have learned so much from my students. I speak to my students about having purpose and spirit in everything they do in life. I learned that lesson from one of my student's years ago," says Kandola. "In the DARE Program, we speak to students about believing in themselves and being confident. I had asked my students what confidence looked like. One student said that I was confident because I taught them with purpose and spirit. As a police officer, I took pride in that statement as it shows that you can still have passion, purpose and spirit in the job that you do even after 20 years as a police officer. What you put out there is received."
"I so look forward to getting back to the schools and being able to meet such incredibly smart, intelligent, caring and spirited students in person,' adds Kandola. "However, in the meantime I am happy I can reach out to the students and through DARE give them skills which they can also use to cope with this current situation."