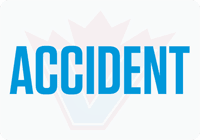 BURNABY RCMP's Criminal Collision Investigation Team (CCIT) is investigating a fatal single vehicle collision that occurred Wednesday morning.

At 3:10 a.m., Burnaby RCMP frontline officers responded to a report of a single vehicle collision in the 5800-block of Byrne Road where they located two females in the vehicle.

Despite the efforts of first responders, the 20-year-old female passenger died at the scene. The 20-year-old female driver was taken to hospital with non-life threatening injuries. Both are Burnaby residents.

At this time it is believed that the driver of the vehicle struck a pole causing significant damage to the vehicle. Both alcohol and speed are believed to be causal factors in the collision.

Police are asking that anyone who may have witnessed this collision or potentially have dash cam video in the area when the collision took place to contact the Burnaby RCMP at 604-646-9999 or, if they wish to remain anonymous, contact Crime Stoppers at 1-800-222-TIPS (8477).