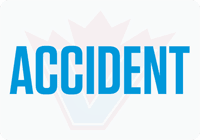 ON July 26 at 3:27 p.m. Abbotsford Emergency Services responded to a serious collision involving a pick-up truck and SUV at Marion Road and Wells Line Road.
An SUV with one occupant, the driver, and a pick-up truck with three occupants collided.
The driver of the pick-up, a 22-year-old man, has succumbed to his injuries. The pick-up truck had two other occupants – the front passenger, a female in her 20's, who has been transported to hospital by helicopter with serious injuries, and the back-seat passenger, a male in his 20's, who was transported to hospital with minor injuries.
The lone occupant of the SUV, a male in his 70's, was taken to hospital with minor injuries.
Abbotsford Police Patrol Officer, Major Crime Detectives and Collision Reconstruction Officers continue to investigate this crash.
All contributing factors related to this collision are being considered at this time. Anyone who witnessed this tragic collision is asked to contact the Abbotsford Police Department at 604-859-5225 or text them at 222973 (abbypd).