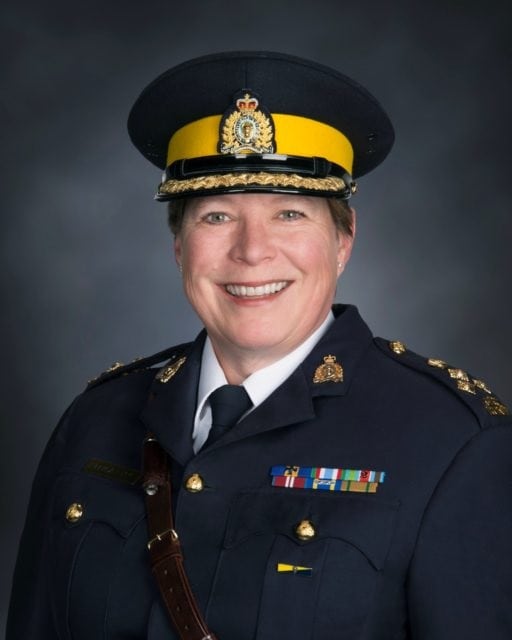 RCMP Commissioner Brenda Lucki on Tuesday said that the RCMP was supporting an FBI investigation in 2018 when through the course of this file they uncovered possible internal corruption.
She added: "We took immediate action and launched an investigation into the alleged activities. Our focus has been to diligently pursue this investigation."
That led to the arrest of Cameron Ortis, Director General of the RCMP's National Intelligence Coordination Centre, for alleged criminality under the Criminal Code and the Security of Information Act.
Ortis was arrested on Thursday, September 12. He's been employed by the RCMP since 2007. Prior to his duties in the National Intelligence Coordination Centre, he held positions in Operations Research and National Security Criminal Investigations Directorate.
Lucki said: "By virtue of the positions he held, Mr. Ortis had access to information the Canadian intelligence community possessed. He also had access to intelligence originating from our partners both domestically and internationally. This level of access is appropriate given the positions he held."
She added: "This is an ongoing investigation and we are assessing the impacts of the alleged activities as more information becomes available. We are aware of the potential risk to the operations of our partner agencies in Canada and abroad and are working in partnership to ensure mitigation strategies are in place.
"Once the RCMP became aware of the alleged activities, we worked with partners to take immediate steps to safeguard the information. Together, we are working to assess the level of impact to operations if any.
"In the last week, cooperation and support amongst the security and intelligence community as well as our law enforcement partners has been remarkable. We thank them for their ongoing support.
"We recognize that these allegations, if proven true, are extremely unsettling. Canadians and our law enforcement partners can trust that our priority continues to be the integrity of our investigations and the safety and security of the public we serve."
Lucki noted: "I want to emphasize that the charges have not been proven in court and there is a need to protect the ongoing investigation and allow due process to occur."
She said: "The news of his arrest has shaken many people throughout the RCMP, particularly in Federal Policing as well as the broader domestic and international security and intelligence communities who worked with Mr. Ortis."
Lucki said: "I want to emphasize that the alleged actions of Mr. Ortis are by no means reflective of the important work carried out by employees of the RCMP – regardless of rank or category of employee – on a daily basis. As Commissioner of the RCMP, I am mandated with the safety and security of Canadians and I would not be able to achieve this mandate without the support and dedication of all those we employ."
As reported here on Monday, according to the Globe and Mail, Ortis, 47, is a native of Abbotsford, B.C. He graduated from the University of British Columbia with a doctorate in political science and a keen interest in security in the digital age. During his studies, he got job offers from government agencies and private companies. According to his LinkedIn profile he started working as an adviser for the federal government in 2007. 
The Globe and Mail reports: "As recently as last month, he was working on a probe of defrauded Russian tax money being laundered through Canada," according to Bill Browder, an anti-Putin campaigner. Browder said he had met with Mr. Ortis in 2017 to press for an RCMP investigation of the tax scheme uncovered by Browder's late employee, tax lawyer Sergei Magnitsky, in the 2000s.
Browder told the newspaper that Ortis "seems like the last person one would expect to be a spy for a foreign country."
The Globe and Mail later reported that the RCMP discovered one of its internal documents on a laptop belonging to Vincent Ramos, a Vancouver businessman linked to organized crime, was seized by American authorities in March, 2018, that sparked the investigation that led to Ortis.
Ramos' company, Phantom Secure, produced encrypted communications devices used by criminal organizations. He pleaded guilty in the U.S. to conspiring to distribute narcotics and racketeering and was sentenced to nine years in prison earlier this year.