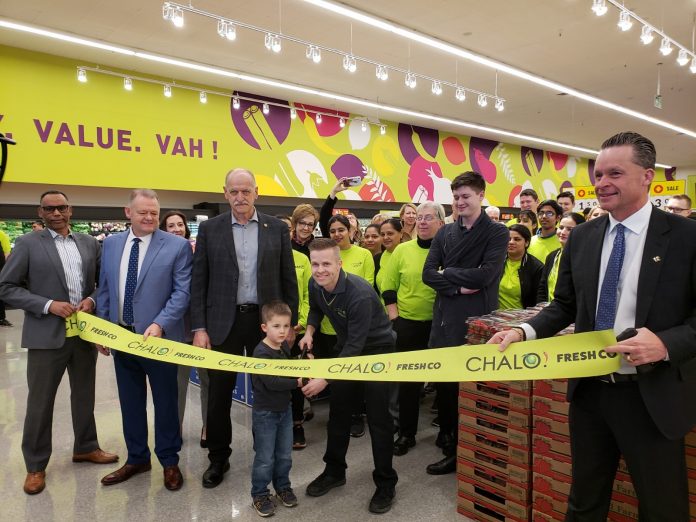 Discount grocer FreshCo brings fresh produce, expansive South Asian product assortment and a large range of North American products at low discount prices in Abbotsford
CHALO! FreshCo opened its doors in Abbotsford on Thursday as the third location in British Columbia. Chalo! FreshCo is an extension of the FreshCo discount grocery chain that has opened 12 other new locations in B.C. and Winnipeg so far in 2019. Chalo means "let's go" in Hindi and Punjabi and is their unique way to welcome customers to their stores.
Chalo! FreshCo lives up to the FreshCo promise offering quality North American products, food and fresh produce at industry-leading low prices, as well as an expansive South Asian product assortment. Customers will be thrilled with the large assortment of dhal, rice and flour. The store will also feature a beloved local business with a Fraserview Meats and Seafood counter in this store.
The store is welcoming customers with exciting grand opening deals as well as opening day celebrations including special traditional Bhangra dance performances put on by a local Canadian Bhangra dance group.  Local dignitaries and members of the community attended the event to congratulate Franchise Operator Clint Friesen and his staff at the store's grand opening and ribbon cutting ceremony.
Clint Friesen owns and operates the store located at 100 – 32500 South Fraser Way with a team of more than 100 employees. "We're so proud to open our doors and join the Abbotsford community today. Our expansive fresh produce assortment features discount pricing that does not compromise on quality. I'm excited to build meaningful relationships in the community that will support Abbotsford for years to come."
Work began in 2019 to convert a former Safeway store into a Chalo! FreshCo to better meet the needs of the Abbotsford community and provide a discount grocery shopping experience with fresh food at low prices.
To commemorate the opening, Chalo! FreshCo Abbotsford donated $2,500 to the Abbotsford Community School Meal program. The store also provided free Compliments butter to the first 500 customers.
There are currently four Chalo! FreshCo locations operating in Ontario and two in British Columbia. Chalo means "let's go" in Punjabi and Hindi, welcoming customers to visit our stores to check-out Chalo's expansive international product offering.
Chalo! FreshCo stores work hard to tailor their in-store assortment to meet the needs of their local communities and offer an easy-to-shop in-store experience helping customers find incredible deals that make every dollar count.

Chalo! FreshCo offers the best products at the lowest cost and offers three money-saving guarantees: In-stock (if you can't find a product that is advertised in flyer, you'll receive a rain check, plus 10 per cent off), Double Fresh (if you're not fully satisfied with the product quality, we'll reimburse you and replace the product) and Lowest Price (we price match). Additionally, Chalo! FreshCo includes an in-store pharmacy where customers can fill their prescriptions while they shop. The store layout has been designed to help customers complete their grocery shop quickly and easily find deals and savings throughout the store.
About Sobeys Inc.
Proudly Canadian, with headquarters in Stellarton, Nova Scotia, Sobeys has been serving the food shopping needs of Canadians since 1907. A wholly-owned subsidiary of Empire Company Limited (TSX: EMP.A), Sobeys owns or franchises more than 1,500 stores in all 10 provinces under retail banners that include Sobeys, Safeway, IGA, Foodland, FreshCo, Thrifty Foods, Farm Boy and Lawton's Drug Stores as well as more than 350 retail fuel locations. Sobeys, its franchisees and affiliates employ approximately 123,000 people. More information on Sobeys Inc. can be found at www.sobeyscorporate.com.