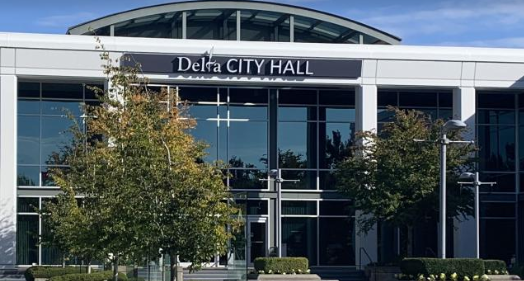 THE City of Delta announced on Tuesday that Donny van Dyk has been appointed as the new City Manager.
For the past five years, van Dyk was the City Manager at the City of Penticton. He will begin his tenure at Delta on September 18.
"I am excited to welcome Mr. van Dyk to the City of Delta as our new City Manager. He brings a wealth of experience, energy, and vision that aligns with Delta Council's plan to grow our vibrant community," said Delta Mayor George V. Harvie.
"His charisma and passion for local government and responsible governance will make him an excellent fit at the City of Delta. His work and reputation at the City of Penticton has been remarkable and we are thrilled to have him join our city."
"I am thrilled to join the City of Delta and work alongside Mayor, Council, and City Staff and build on Delta's reputation as a first-class community that is welcoming, inclusive, and innovative," said van Dyk. "I want to thank Mayor and Council for providing me this opportunity to make a difference here in Delta."
Delta embarked on a search for a new city manager due to the former city manager, Sean McGill, pursuing new opportunities. McGill's last day with the City was August 31.
"Sean McGill has been a tireless advocate for the City of Delta for the past 35 years," said Harvie. "On behalf of Council, I want to thank him and share my heartfelt appreciation to Sean for his dedication and service to our city. I wish him the very best with wherever the next chapter takes him."
Deputy City Manager Marcy Sangret will act in the role during this transition until van Dyk starts with the City on September 18.
Van Dyk joins Delta from the City of Penticton where he led the City through a sustained period of planned growth, instituted new climate initiatives, and grew a provincially renowned Community Safety Officer team and did so through wildfires, floods, and a pandemic. Further, van Dyk oversaw BC's fourth largest electrical distribution company and both the South Okanagan Event Centre and Penticton Trade and Convention Centre.
Previous to Penticton, van Dyk was at Enbridge where he worked in various roles in community and Indigenous relations, government affairs, and finance. Prior to joining Enbridge, van Dyk served in the BC municipal public sector where he held the position of Chief Administrative Officer for the District of New Hazelton.
Originally from Terrace, van Dyk is a Chartered Professional Accountant and holds degrees from the University of Victoria (Masters in Public Administration) and the University of Northern British Columbia (Bachelor of Commerce), as well as a diploma from Coast Mountain College (Business Administration). Van Dyk also previously served on the Board of Governors of Coast Mountain College, as well as on the board of the North Central Local Government Management Association.