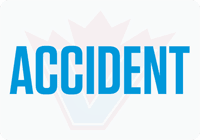 BURNABY RCMP are investigating a collision that has left a pedestrian with life-threatening injuries.
Just after 8:30 a.m. on Wednesday, September 15, a pedestrian ran onto Kingsway from the Shell gas station on Barker Avenue. The pedestrian was struck by a passing taxi and suffered what initially appeared to be moderate, non-life-threatening injuries. The victim was transported to hospital. The driver of the taxi remained on scene and spoke to police.
It was later discovered that the pedestrian's injuries could potentially be life-threatening.
Police would like to speak to anyone that may have witnessed the collision, but also anyone that may have seen anything that occurred inside or outside the gas station leading up to the collision.
At the time of the incident, the victim had a white hospital blanket (with stripes) draped over his shoulders and is described as:
Dark complexion
5'6"
150 pounds
Balding
Salt and pepper full beard
"If you witnessed the incident on Kingsway or saw any interactions inside or outside the gas station, our investigators would like to speak to you," said Cpl. Mike Kalanj. "If you have dashcam video from the area between 8 a.m. and 9 a.m., we would also like to hear from you."
Burnaby RCMP's Criminal Collision Investigation Team continue to investigate this incident and are requesting anyone who may have witnessed this collision or potentially have dashcam video of the collision to contact them at 604-646-9999.