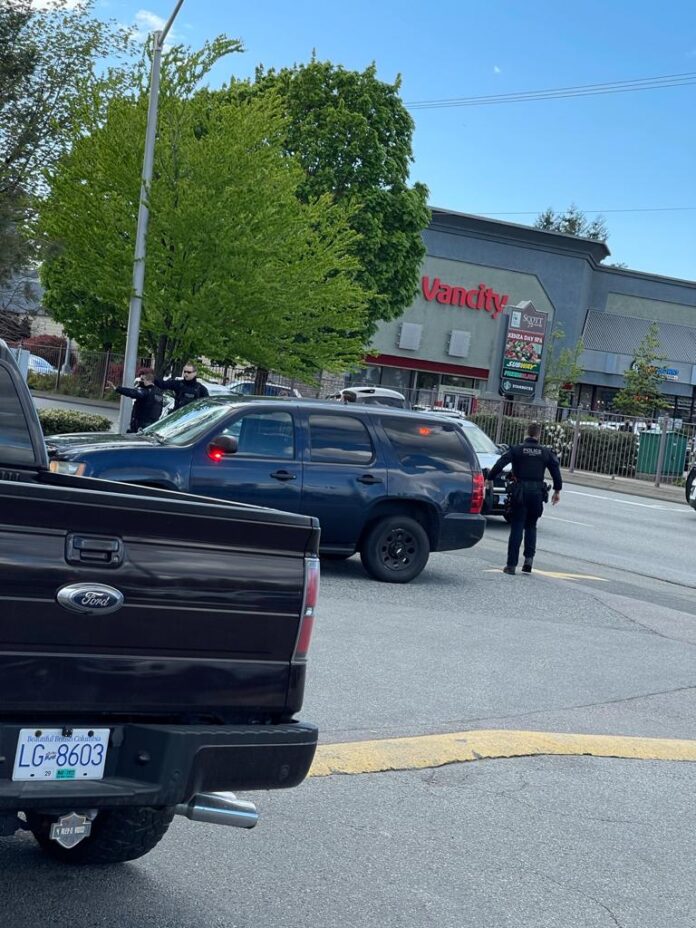 THE victim in the Saturday, May 1 shooting in North Delta has been identified as 29-year-old Bikramdeep Randhawa of Surrey. He was a provincial Corrections Officer and was not known to police.
"Our thoughts are with the victim's family and friends, as they now start to deal with their loss," said Inspector Guy Leeson, Head of Investigative Services for Delta Police.
Leeson said that based on the behaviour on May 1 of the suspects, the incident is considered to be targeted. However, the motive for the shooting is not known.
"We're looking at all possible aspects as to why this crime was committed," said Leeson. "We will examine every potential motive thoroughly. Whether it was a case of mistaken identity, a matter related to his personal life or if there is a possibility the shooting was related to the victim's occupation."
"We're asking anyone who knew Mr. Randhawa, or who could have information related to why he was targeted in this manner, to please contact police at 604-946-4411, or Crime Stoppers at 1-800-222-8477," said Leeson.
Police are also confirming that a suspect vehicle involved in this incident was discovered burned in Burnaby on May 1.
No arrests have been made in relation to the shooting and police are not releasing any information about the possible suspects in this matter.
Delta Police have been in communication with BC Corrections and other law enforcement partners about possible links to other incidents in Metro Vancouver, but at this point police are not able to determine whether this shooting can be linked to the gang conflict.
Police received reports of shots fired at 4:55 p.m. on Saturday near a gas station at 72 Avenue and 120 Street. They responded immediately and located a male who had been shot. The shooting occurred in the parking lot of the Scottsdale Centre Mall.
At 10:45 p.m., Delta Police confirmed that the victim had died.
"Despite the best efforts of Emergency Health Services, unfortunately, the victim in this incident did pass away," said Leeson on Saturday night.
He said: "Officers have been interviewing witnesses in the area, and we are also in possession of video that appears to have been filmed immediately after the incident. However, anyone who hasn't yet spoken to police and was a witness, has dashcam or CCTV video, is asked to please call 604-946-4411."
Leeson added: "This shooting took place in a very public manner, and we are very much aware of the possible risk to innocent bystanders. Fortunately it doesn't appear there was anyone else injured during this incident, but we ask those who might have any information to contact police."
While the investigation continued on Saturday night, quite a few drivers were unable to access their vehicles that were behind police crime scene tape.
"Our officers worked through the night on this investigation, securing evidence, and were able to significantly shrink the size of the crime scene shortly after 5 a.m. on May 2. We want to thank those drivers for their patience and understanding. We are working hard to ensure we don't miss even the smallest detail," said Leeson.
The crime scene has now been released, and all vehicles may now be picked up by drivers.
MONDAY UPDATE
THE BCGEU (BC Government and Service Employees' Union) President Stephanie Smith and Dean Purdy, Vice President, Component 1 (Corrections and Sheriff Services), in a statement on Monday said:
"On behalf of 80,000+ members across the province, the BCGEU offers our deepest condolences to the family, friends, and loved ones of Local 104 member Bikramdeep Randhawa as they grieve his sudden and senseless death on Saturday, May 1.
"While the loss of any member under any circumstance is a tragedy, Bikramdeep's youth and the violent, and public nature of his death make this loss harder to bear especially for the close-knit members at Fraser Regional Correctional Centre who knew him as a colleague and a friend.
"In the coming days and weeks our union will be focused on ensuring our members have everything they need to get through this difficult time and that their mental, emotional, and physical health and safety are protected going forward."