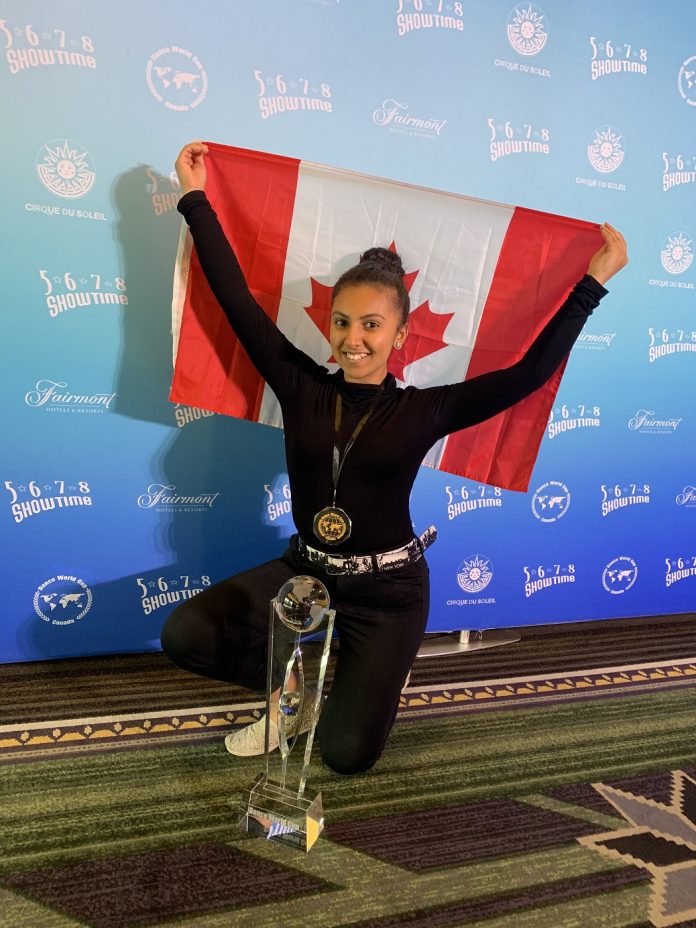 BY DEVANSHI VYAS
"Never give up on something that you can't go a day without thinking about" – Winston Churchill
MY passion for Music and dance started when I was about three years old with my first dance performance in Toronto. I've always been competitive, whether it be dance, sports, or even school. I thought competitiveness gave me an extra edge, a motivation to persevere and work hard towards my goals. I can't always be the most talented in the room, but I can be the most competitive and driven to get what I've always dreamt of.
Competing and participating in dance competitions started in 2013 with my first ever dance competition. I was introduced to Dance World Cup in 2015 when I wanted to take my dancing to another level. I wanted to compete at the international level so that I could see where my self-taught technique and ability stood amongst so many other talented dancers. In 2015, I competed diligently and managed to get fourth place; I was just two points away from gold. I definitely was disheartened but I didn't let my defeat get in the way.
I trained every week for two years straight and competed again in 2017. My attempt at Kathak and Laavni (classical dance forms originated from India) in 2017 got me a spot on the podium, but I had won a bronze for Canada. This time I was just 0.75 points away from gold.
At that point in time I had made up my mind, I wanted to get gold for Canada. I wanted to make my own country proud. I didn't want to give up on something that I really desired. It was difficult to wait and be patient but I kept thinking that it will be worse to regret. I didn't want to have the feeling of regret that I didn't train hard to perfect the imperfections that I had in my performance which cost me my gold every time.
This competition resembles the feel and ambiance of competing at the Olympics. Over 8,000 dancers from Argentina, Austria, Belgium, Brazil, Bulgaria, Canada, China, Cyprus, France, Germany, Ghana, Greece, Guam, Hungary, India, Indonesia, Italy, Japan, Mexico, New Zealand, Poland, Portugal, Romania, Russia, South Korea, Turkey and USA have competed at Dance World Cup. The gold, silver and bronze medals given to the top three dancers are the size of an Olympic medal. Each dancer brings their country's flag and waves it with pride and honour when they stand on the podium. I danced and trained immensely for the next two years. I had my eyes on the gold and I wanted to attain the gold medal and stand on the first place podium and feel satisfied and proud of myself.
Four years from 2015, I was able to proudly wave the Canadian flag as I got gold for Canada this year on July 4 in Whistler. I was ecstatic and overjoyed as I had finally made it.
I competed in the National / Folkloric Category amongst dancers from Saskatchewan (Canada), India, and China. The competition was super tough and close as everyone gave it their all. The dance form I took to the competition was Afro Jazz, it was my very first attempt at it. I wanted to take a risk and do something unique that would give me a different look and vibe, something that would differentiate me from others and make me stand out. Who knew a little risk-taking would make me victorious! I've always been a risk-taker and this quality proved to be an asset this year. Great things never came from comfort zones; life is all about taking risks to get what you want. If you win, you can lead; if you lose, you can guide. This achievement of mine will always make me realize that anything can be done if one works hard for it. I toiled hard and didn't stop as I wanted this win more than anything else in the world.
However, this win isn't going to stop or slow me down because I achieved what I had dreamed of, instead I want to work even harder than before and compete in the international dance competition in Europe next year. Moreover, the international dance committee has been proposing to allow dance as a sport in the Olympics. This year, it was proposed to have it be a part of the Olympics at the Paris 2024 Games. The final verdict will be given in December 2020. If it all works well I will strive to compete and get a gold for Canada at the Olympics for Dance.
"When you dance, your purpose is not to get to a certain place on the floor. It's to enjoy each step along the way," said Wayne Dyer, who was an internationally renowned author and speaker in the field of self-development.
I will never stop competing. Dance is something that brings me joy; it's the passion that fuels my day. I aspire to take dance to another level and keep winning and making Canada proud.
"Dance is one language with many accents."