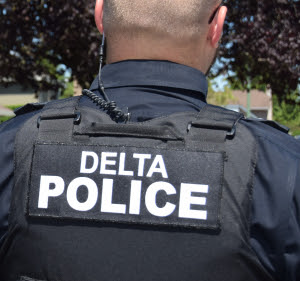 DELTA Police announced on Tuesday that residents and hockey fans in North Delta will see an increased police presence in the popular celebratory area of 120th Street and 72nd Avenue following Canuck playoff games. The increased presence is to ensure the safety of those celebrating, drivers and pedestrians.
"As the Canucks have progressed this season, we have seen steady growth in the number of fans celebrating in the area of 120th Street and 72nd Avenue," said Inspector Ciaran Feenan. "While we understand fans wanting to celebrate, we want to ensure that fans are being safe and are following public health orders in regards to COVID-19: maintaining social distance, wearing a mask, and not congregating in groups of more than 50 people. Our advice: please stay home to celebrate, and Go Canucks Go".
After the Canucks win on Friday, August 21, upwards of 1,000 fans gathered in the area. Delta Police received comments from concerned citizens who called and wrote into our social media channels expressing the disregard of many fans who did not practice COVID-friendly measures. Due to the size of the gathering, Delta Police, in partnership with Surrey RCMP focused their efforts on pedestrian and traffic safety.
Residents concerned about COVID-19 violations are asked to contact Delta Bylaws at: 604-946-4141, or call Delta Police's non-emergency line during non-business hours at 604-946-4411.