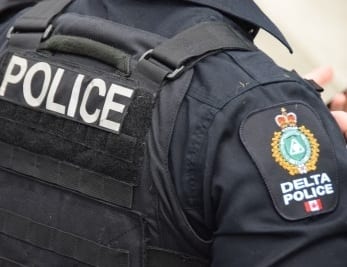 OVER the course of the past year, Delta Police Department has trained all of its police officers in Integrated Communications and Tactics (ICAT), which focuses on verbal communication to de-escalate agitated and potentially violent subjects. The purpose of the training is essentially to save lives and protect both the public and the police from the results of escalated use-of-force in high-risk situations.
On July 30, Delta Police were called to a senior's care home where staff were concerned about the family member of a patient. The 60-year-old male was agitated after learning of his mother's imminent passing, and alert nursing staff called police prior to his arrival.
Police attended the care home and while they were speaking to the male, he suddenly attacked the officers with a knife without any provocation. One officer suffered a laceration to the face. The officers backed away, and displayed both a pistol and a conducted energy weapon in an attempt to subdue the male.
The injured police officer continued attempts to communicate verbally with the male, resulting in a successful de-escalation with no use of force. The male is safely in custody and charges are pending for assault a peace officer with a weapon, utter threats, possession of a weapon for a dangerous purpose, and possession of a prohibited weapon.
Delta Police Deputy Chief Norm said on Tuesday: "Last night's events were highly elevated and dangerous, but through appropriate de-escalation it was peacefully resolved. We recognize that it is our duty to keep all members of the public safe, regardless of their actions, and this training served us well in this incident. The ability to use various force-options is a valuable tool for our officers and our investment into ICAT training is showing us returns."
It is anticipated that the injured officer will make a full recovery.