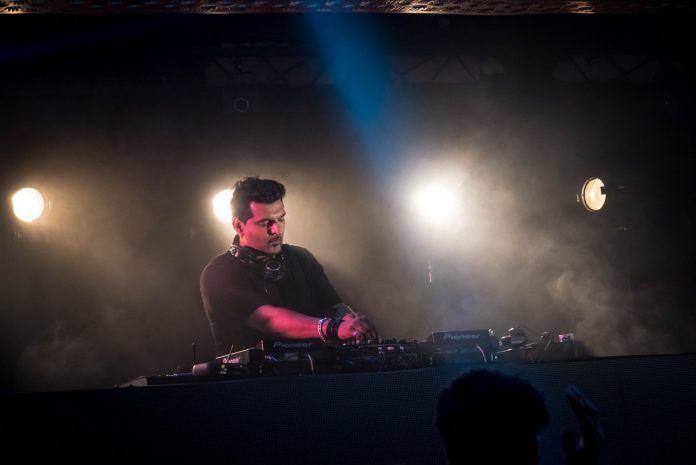 U.S.-BASED Dash Radio, the world's largest all-original digital broadcaster, has launched North America's first mainstream South Asian radio station called Rukus Avenue Radio. Since its launch in April 2019, Vancouver, B.C. based South Asian talent, DJ EMENES (pronounced as "M-N-S") from the MIB Roadshow has secured two one-hour commercial-free shows on this global digital platform producing and hosting alongside partner stations curated by artists such as Snoop Dogg, Kylie Jenner, and Lil Wayne.
"Being a Canadian-born Indian, I am so honoured to be a part of the world's largest all-original digital broadcaster, and stand among these other great artists and hosts," DJ Emenes said in a news release. "It's an exciting opportunity for me to bring my unique fusion sound to global dance audiences."
As a veteran DJ, music producer and radio host, DJ Emenes is prisoner to no one genre of music. In 2016, he was tapped to highlight his unique blend of sounds as the only Indian DJ from North America to perform at the 10 year anniversary of the illustrious Sunburn Music Festival (India). In 2018 he was commissioned by Zee Music Company (India) to produce the official remix of the hit track "Manali Trance" featuring Yo Yo Honey Singh and Neha Kakkar, from the Bollywood movie "The Shaukeens." Also in 2018, he debuted his original production in the Bollywood movie "Kaashi" with his song titled "Ranja." Moving forward, he has been excited to bring his experience, talent, and passion for music to the decks and showcase his fusion electronic sound to Dash audiences. Designed for anyone with an affinity for South Asian culture, listeners can expect to be entertained with his two shows.
Highlighting his work in the electronic music scene, his first show "Sound of Emenes" airs weekly every Wednesday at 12 PM PST (and repeats weekly every Wednesday at 10 PM PST). On this show you will hear the hottest EDM and dance tracks mixed with his personal touch of Indian flavor.
DJ EMENES co-produces and co-hosts his second show "Beats of MIB" with business partner,  DJ Super Singh. Collectively known as the MIB Roadshow, this duo bring their fusion sound, mixing Bhangra, Bollywood and English hits every Saturday at 8PM PST (which repeats weekly every Sunday at 11AM PST). On this show they feature a special dj set called "Made In Canada," celebrating and featuring Canadian South Asian recording artists.
The MIB Roadshow is the DJ brand of choice for many Bollywood stars in their travels to Western Canada. The duo were asked to DJ the exclusive after party for the first official Times of India Film Awards (TOIFA) held in Vancouver, Canada, and many more. The release of their first mix-tape in the mid-90s entitled Mundey In Black has made the MIB name a staple in the South Asian music scene. MIB's work has also garnered them recognition by the Museum of Vancouver, who credited them for kicking off the remix wave in Western Canada that then rippled around the world.
Both shows air on the Rukus Avenue Radio channel on Dash Radio. Rukus Avenue Radio can be listened to 24-7 through the Dash Radio app available on iOS and Android, as well as on the Dash Radio platform at DashRadio.com completely free-of charge and commercial-free.
"Dash has always been successful focusing on often overlooked genres," says Dash Radio Founder and CEO, world-renowned DJ Skee. "The potential for Rukus Avenue and the music of India is massive with an underserved market ripe for premium live audio content – we are excited to welcome them into the Dash family."
With over 80 curator-championed stations and a monthly audience of over 10 million listeners, Dash Radio is available on over 50 platforms – inside nearly every connected car service and smart home device such as Alexa, Amazon Fire Stick, Android Auto, Apple Play, Apple TV, Car Play, Chromecast, GM Vehicles, Google Home, Land Rover/ Jaguar, Pluto TV and  Sonos, to name a few,
"There's so much anticipation around this station and especially this business venture," says Rukus Avenue Founder and CEO Sammy Chand. "We're honored to be partnering with Dash Radio through the establishment of this platform, and are thrilled about presenting our South Asian culture to a worldwide market – the prospect of the social impact our community of over 70 celebrity hosts can have is very exciting to us."
To connect with DJ Emenes find him online on Instagram ( www.instagram.com/djemenes ),  Facebook ( www.facebook.com/emenes ) or Twitter ( www.twitter.com/djemenes ).
To connect with the MiB Roadshow find check them out on Instagram ( www.instagram.com/mibroadshow ),  Facebook ( www.facebook.com/miroadshow ) or Twitter ( www.twitter.com/mibroadshow ).