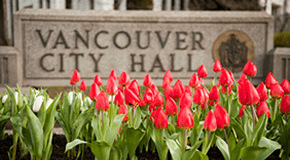 A new temporary Vancouver shelter offering street-based sex workers a safe, warm place to sleep 24 hours a day, seven days a week will soon be opening in the Downtown Eastside.
Run by WISH Drop-In Centre Society, this temporary shelter will open in four to six weeks and will provide beds for 23 self-identifying sex working women (cis, trans) and two-spirit folks along with hot showers, laundry and meals. Some of the beds will be allocated to sex workers seeking short-term respite spaces, while the majority of the beds will be with a longer-term focus, while permanent housing solutions are found. The City is providing the space at 340 Alexander Street for a nominal lease to WISH.
"WISH is proud and excited to begin operating Canada's first-ever 24/7 shelter for street-based sex workers," said WISH's Executive Director, Mebrat Beyene. "A shelter exclusively for sex workers has been a need for quite some time, but COVID has now deeply exacerbated the pre-existing crises of poverty, homelessness, and a poisoned drug supply. A temporary, emergency shelter like this is absolutely critical—now more than ever."
Precariously housed and unhoused women in the sex trade will now have a place to temporarily call home while continuing to access all the programs, services, and wraparound supports that WISH has to offer. Some of WISH's capacity-building programs include literacy programming, supportive employment, transitioning/exiting/retiring supports, Indigenous programming, and music therapy.
"We are proud to be partnering with WISH to be providing this important space. COVID-19 and the ongoing overdose crisis are impacting those most marginalized in our city and the new shelter will offer a space for women who might not otherwise have a place to go," said Sandra Singh, General Manager, Arts, Culture and Community Services. "This shelter will provide vital services that we take for granted every day – somewhere safe to sleep, a shower, laundry facilities and hot meals."
With support from the City of Vancouver, WISH's backlot also houses a five-toilet washroom trailer and an outdoor safe respite area. Over 35 peers are employed to maintain the space, offer peer support, and provide overdose prevention or reversal supports every day and night. WISH's washroom trailer is one of three trailers funded by the City which provide safe sanitation and support to members of the community in the Downtown Eastside and on Kingsway.