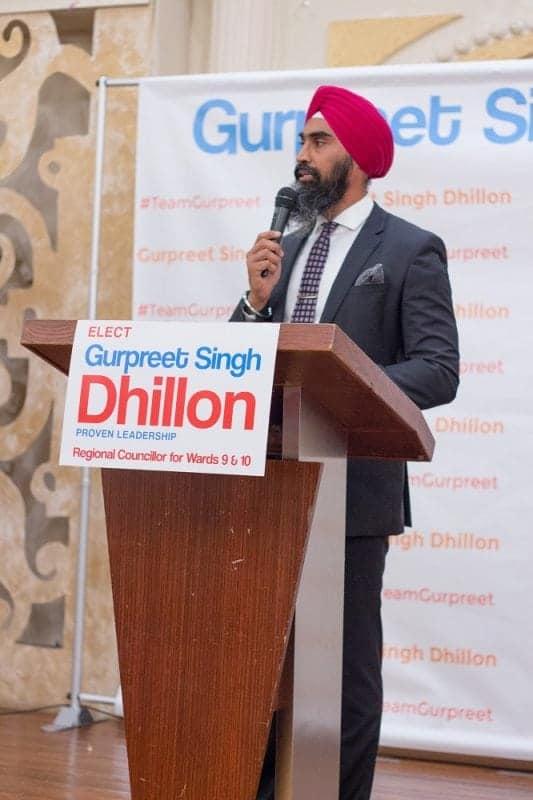 BRAMPTON: On Sunday, September 9, Gurpreet Singh Dhillon launched his campaign for regional councillor in Wards 9 and 10 at Chandni Gateway Banquet Hall.
With approximately 700 supporters in attendance, Dhillon highlighted his accomplishments in his term as city councillor, and also released his platform to the standing room only crowd.
"My constituents had given me a mandate to create jobs, attract a university, and stop the corruption. These are real results I was able to deliver the residents of Wards 9 and 10," said Dhillon.
"Looking forward, my five-point plan is a guide for our residents as a reference to where our city must improve. And, with my proven track record I am confident we will achieve our goals in making Brampton a world-class city."
The plan, which is also posted on Dhillon's website, outlines improvements in taxes, transit, community safety, diversity, and planning, and will also be included in his new pamphlets being distributed this week.
Guest speakers at the launch included Wards 1 and 5 city councillor candidate Rowena Santos, former Peel Police Board Chair Amrik Ahluwalia, MPP Amarjot Sandhu and MP Raj Grewal, while MP Ruby Sahota, MP Ramesh Sangha, Wards 7 and 8 City Councillor Pat Fortini, Peel Board School Trustee Harkirat Singh and Toronto School Board Trustee Avtar Minhas were also in attendance.
Dhillon's website:
www.gurpreetsinghdhillon.com