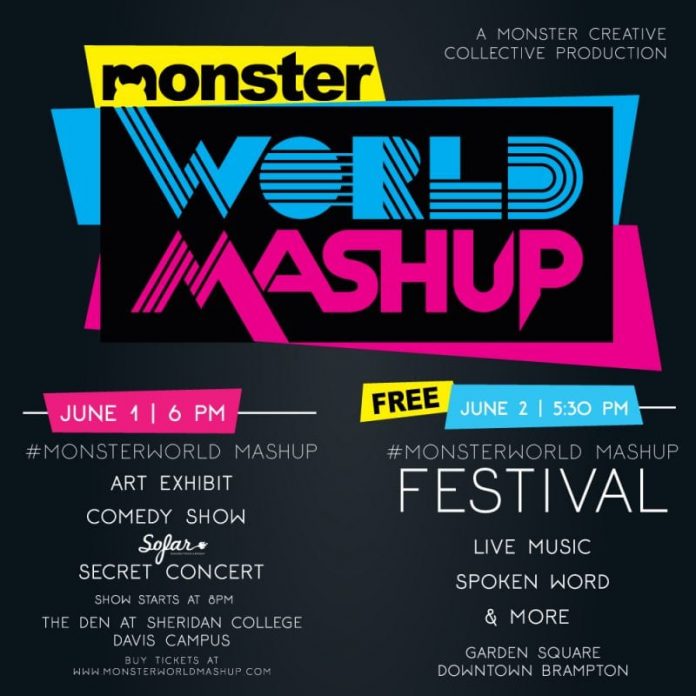 BRAMPTON: The two-day festival begins at the June 1 launch party at The Den located at Sheridan College – Davis Campus in Brampton, and contains a Sofar secret concert, various comedic acts including Amish Patel, Keesha Brownie, Crystal Ferrier, Nitish Sakhuja, Chris Robinson and Paul Thompson, as well as an art exhibit curated by Beaux Arts Brampton. June 2 at Garden Square in downtown Brampton comprises a diverse set-list of world music artists and an assortment of spoken word performers, all for free! #MonsterWorld Mashup is set to rock Brampton this summer, so don't miss out on this one-of-a-kind monstrous production.
The free festival day on June 2 boasts a star-studded lineup, having recently added Kendal Thompson and Haviah Mighty to the mix. Thompson has emerged victorious as a Toronto Indie Battle of the Bands Champion on multiple occasions, best known for her debut EP album "One" and working with Toronto artist John Orpheus on a song titled "BUTTAHFLY." Haviah Mighty represents the future of the R&B genre in many respects, with the ability to not only sing, but also rap and produce. She is also a part of the rising Toronto hip-hop group "The Sorority". The June 2 show also features South Asian hip hop artists Movin' Cool, hip-hop duo Stay Out Late, Filipino-Canadian poet and rapper HANHAN, hip-hop group Los Poetas and folk/pop artist Angela Saini. Spoken word performances will feature international vocal instrumentalist Killa Beatz, artist and revolutionary Matthew Jones aka Testament, Toronto's popular female poet Desiree Mckenzie and poetry slam competitor Nasim Asgari.
A Monster Creative Collective presentation, #MonsterWorld Mashup aspires to showcase various forms of art mastery, from music, comedy, spoken word and visual arts. This variety of art forms displays the outstanding talent within the Brampton and GTA community. "We're grateful to have wonderful sponsors and funders working with us to put on the best show possible for the Brampton community", says Executive Director of MonstrARTity, Vikas Kohli. "We're bringing to life exciting acts across the various arts who all are extremely talented and a delight to work with. These faces represent the future of our arts in the GTA area, and we as a community should be extremely proud of them all. #MonsterWorld Mashup aims to bring something new to the Brampton people, which is shown through the first-ever Sofar secret concert in Brampton on June 1 at Sheridan College, and the first-ever world music festival in Brampton on June 2 at Garden Square. Join us in the celebration!"
The #MonsterWorld Mashup world music festival is sure to be an exciting show with music and fun for all. June 2 is a free event, so grab your friends and family for an evening full of entertainment. Check out the video below to see what's in store at the festival.
Watch: #MonsterWorld Mashup Promo
June 2: Artist Line-up
Movin' Cool Click to download
About Movin' Cool
Movin' Cool is a hip-hop duo consisting of emcees B Magic and Noyz. Originally forming in Brampton in 2010, the group took their lively stage show on the road, winning over audiences all across Canada, as well as the United States and UK. Veterans on the Canadian hip-hop scene, the duo has had their music featured on notable platforms such as CBC Music, BBC Radio, Toronto Life, and The Needle Drop. The group's music is the best of both worlds, equally representing the fun and energy of hip-hop park jams, as well as the socio-political commentary the genre was born out of.
Stay Out Late Click to download image1 Stay Out Late Click to download image2
About Stay Out Late
Stay out Late is comprised by the dynamic duo of Tremayne and Scotty IV. Tremayne is a Toronto grown hip-hop artist, known for his prolific performances and universally respected for his visceral songwriting. Tremayne explores the interpersonal workings of the artist mind, the bleeding heart and the human experience. His pursuit of a career in music has taken him across the globe from London, New York, Montreal, Germany to performing at Atlanta hip hop festival, A3C. Scotty IV (pronounced 'eye – vee'), represents the other side of the hip hop scene in Toronto. From honor roll student to university drop out, momma's boy to party rager, from college life to homelessness, and doing what it took to survive, Scotty IV's range of experiences are vast and more importantly unique. After years of performing, Scotty IV is prepping the release of four audio "Seasons": The Substance & Abuse series.
HANHAN Click to download
About HANHAN
Haniely Pableo aka HANHAN is a young Filipino-Canadian female poet / emcee who
raps in Filipino languages (Tagalog and Cebuano) addressing Filipino diasporic social issues
through her lyricism inspired by her personal experiences as a young Filipino immigrant woman
of colour ranging from immigrant issues, social activism and cultural pride. Her music features
elements and sounds of Filipino traditional instruments (kulintang, agong, bamboos and kubing) with catchy hip hop contemporary beats. Her performances feature elements of Filipino folk dance and movement with Filipino and diasporic visual elements.
Killa Beatz Click to download
About Killa Beatz
CJ "Killa Beatz" Mairs is an international vocal instrumentalist whose passion for the Beatbox began at the age of five. Hailing from a musical family, he was literally born into sound. Beatz has opened for an acclaimed roster of international artists including members of Wu-Tang, The Roots, Biz Markie and Kardinal Official. As an educator, he teaches Hip Hop basics, music production and the history of beatboxing at various middle and high schools. Beatz is currently producing music and co-curating a promotional Web Series with Queen GodIs for the forthcoming The Book of Lyte Project.
Matthew Jones aka Testament Click to download
About Testament
Matthew-Ray Jones also known as "Testament" is a connoisseur of anything and everything involving words. From poetry, spoken word and emceeing to facilitating, hosting and keynoting, Testament has been using his natural speaking abilities to inspire audiences for over 15 years. He has performed and taught coast to coast across Canada, as well as internationally across six continents globally. Testament has recorded three albums to date, sharing stages with the likes of: Talib Kweli, Naughty by Nature, Biz Markie, GZA, Kardinal Official, Saukrates, Rich Kidd, Damn Funk and more. A father, artist, entrepreneur and revolutionary, Testament uses his passion for words, art and life to motivate, inspire and lead.
Los Poetas Click to download
About Los Poetas
Led by park bench philosophers Louwop, Che Uno and Afantú, Vancouver-based producer Vago, supported by DJ Grouch and backed by master musician Matias Recharte (Kuné Band), Los Poetas are drawn together by a shared immigrant experience and driven by a passion for Hip Hop. Like bards throughout history who have inspired this project, Los Poetas lyrically capture life's beauty, intensity, anguish and hope, from the far-flung street corners of their birth countries to the land where they found their voices. Theirs is both, a personal and universal journey that resonates no matter your language, location or lineage.
Haviah Mighty Click to download
About Haviah Mighty
The Toronto-born, Brampton raised artist has been actively pursuing her passion of music since 2009. A cross between new school production and aggressive cypher-like delivery, Haviah is a rapper, singer and producer all mushed into a 5'1 ball of fury. The So You Think You Can Rap Canada champion has progressed with each project release in her career. Haviah's 4th project 'Bass Loud' got traction on the CMJ charts, as it hit #1 in Edmonton, and saw the most digital sales of all project releases. Haviah's most recent release was an extended play titled "Flower City", a project paying direct homage to her hometown of Brampton. She is also apart of the rising hip/hop quartet "The Sorority", releasing an album titled "Pledge" on April 13, 2018.
Desiree Mckenzie Click to download
About Desiree Mckenzie
Desiree Mckenzie is a spoken-word poet from Brampton, Ontario. She began writing spoken word six years ago; starting with her background in theatre, where she found her love for performing and sharing stories. She competes in poetry slams around the GTA and was ranked amongst the top 12 female poets in Toronto in 2016. As a BAM! Youth Slam mentorship program alum, she also began taking spoken word workshops, sharing the art of poetry as an outlet. With a poetic style reminiscent of a friendly heart to heart conversation, she knows that her truth is the most intimate gift she can share.
Nasim Asgari Click to download
About Nasim Asgari
Nasim Asgari is a thinker and dreamer, born in Tehran and based in Toronto. She is currently in her third year at York University studying human rights and equity studies. Nasim began writing at the age of 10 when she decided to use her voice and written words to express herself and bring awareness to issues that are often undermined by today's world. Nasim has shared her poems at events, poetry slams and protests including TEDX Rouge River, R.I.S.E. Edutainment, Gardiner Museum, and Art Gallery of Ontario. Her poems will soon be available in her upcoming literary release titled, "what was swept under the persian rug".
Kendal Thompson Click to download
About Kendal Thompson
Kendal Thompson is a singer/songwriter who originates from Alliston, Ontario. In 2007, Kendall moved to Toronto, where she first found a home in the folk circuit. Endless shows and projects later she had a meeting with producer, songwriter and musician Mike Schlosser and the musical results have formed that basis of all her music since. In 2015, Kendal enjoyed multiple wins at Toronto indie weeks battle of the bands. Following those performances she proudly announced her debut ep "ONE" on Little Noise Records. Succeeding that gave her the privilege of working with friend and fellow artist, John Orpheus. The song titled "BUTTAHFLY" has reached 100k views on YouTube and has been a fan favourite in the Orpheus base.
Angela Saini Click to download
About Angela Saini
Toronto-based folk pop artist Angela Saini is all about second chances and empowering others. Her ability to combine humanistic and honest themes laden with catchy hooks and memorable melodies make her entertaining as well as extremely relatable. With two European and five Canadian treks under her belt, BBC Radio is calling Angela Saini "massively talented" after the release of her sunshine-soaked single "Living on The Bright Side." Currently in rotation on the Pop Adult station on Stingray Digital across Canada, Angela is a 2017 Toronto Independent Music Award Winner and blogTO named her in their "Top 5 Folk Acts to Watch."
About Vikas Kohli
Award-winning film composer and music producer, Vikas Kohli is the Artistic Director of MonstrARTity and is known for his expertise fusing together genres as varied as punk, classical and Bollywood pop.  He has received the Trailblazer Award from the ReelWorld Film Festival, Voice Achievers Award and a MARTY award from the Mississauga Arts Council. Kohli sits on the Board of Directors for Ontario Cultural Attractions Fund (OCAF), the Mayor's Diversity and Inclusion Advisory Committee for the City of Mississauga and has been profiled on ET Canada, CBC The National, The Globe & Mail, The Hindustan Times and Zee News. Born in Ottawa, Kohli attended fine arts school, received an Honours Degree in Mathematics & Philosophy from the University of Toronto, his MBA from the Schulich School of Business and his CFA.
Connect with us