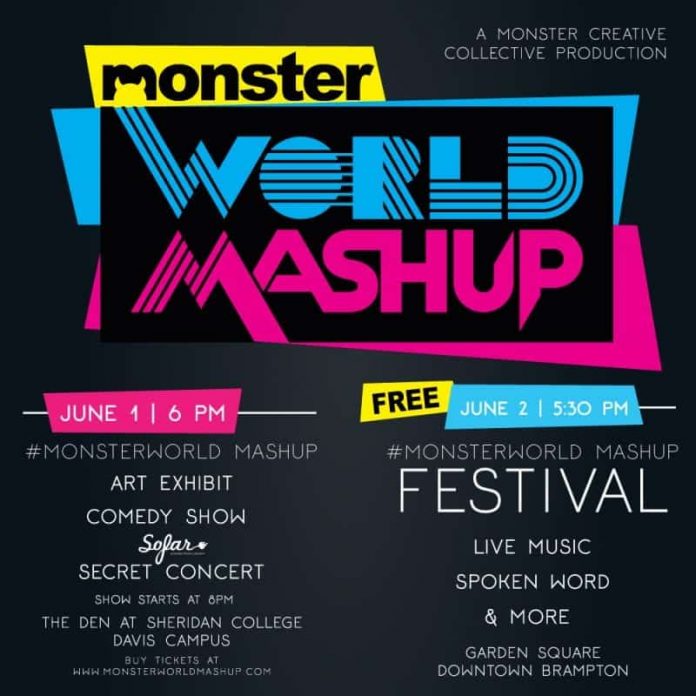 BRAMPTON: June has started off with two unforgettable nights for the Brampton community, thanks to the two-day #MonsterWorld Mashup festival. On June 1, The Den at Sheridan College – Davis Campus was the place to be, as comedians Paul Thompson, Amish Patel, Keesha Brownie, Crystal Ferrier, Nitish Sakhuja, and Chris Robinson had everybody laughing all night long. This was followed by the first ever Sofar Sounds secret concert in Brampton, with HANHAN and Los Poetas bringing their contagious energy to the stage.
On June 2, that energy was seen on an even larger scale, with a fantastic turnout at Garden Square. #MonsterWorld Mashup was the first ever world music festival presented in Brampton, and showcased local Brampton acts such as hip hop duo Movin' Cool, female poet Desiree Mckenzie and R&B prodigy Haviah Mighty. The lineup included a variety of musical and spoken word performers with ties close to the Brampton area, including Stay Out Late, HANHAN, Killa Beatz, Testament, Nasim Asgari, Kendal Thompson and Angela Saini, all bringing their own unique talents to the stage.
There was a performance for every listener at #MonsterWorld Mashup, with hip hop, R&B, country/folk, pop and international music all represented through the variety of acts.
"The festival really brought people together and that was the vision all along," says Executive Director of MonstrARTity, Vikas Kohli. "The variety of art forms we presented gave the Brampton people a bit of everything, and spotlight the talent we have within our own community. We are glad to have brought the first ever world music festival for Brampton."
Check out below for exciting photos from both days of #MonsterWorld Mashup.
Friday June 1
Paul Thompson performing at Monster World Mashup
Jokester Paul Thompson was the host of the #MonsterWorld Mashup Launch Party and introduced the variety of comedians to the crowd while also sliding in a few clever jokes of his own.
Chris Robinson performing at Monster World Mashup
Sirius XM's Top Comic in 2016, Chris Robinson brought his vibrant personality to the stage, and discussed some of his most passionate interests in a hysterical way. The audience couldn't get enough of his witty character.
Mayor Linda Jefferey addressing the crowd at Monster World Mashup
Brampton Mayor Linda Jeffrey stopped by to give a few words discussing diversity, inclusion amongst all, and that she hopes more events like #MonsterWorld Mashup are held within the Brampton community.
HANHAN playing at Monster World Mashup
The audience was surprised with Filipino-Canadian musician HANHAN as their first Sofar secret concert act. HANHAN, her dancers, and DJ all made the nearly one hour setlist something that had to be seen to believe, with rapping, singing, dancing, and visuals all incorporated into one captivating performance.
Los Poetas playing at Monster World Mashup
The final act of the evening was Latino hip/hop group Los Poetas, who were extremely hyped up during their performance. Los Poetas really got the crowd into it when they played their hit song "No Vales" as many audience members were seen dancing and singing along.
Saturday June 2
Angela Saini playing at Monster World Mashup
Folk-pop artist Angela Saini started the show off with some inspirational lyrics through her singles "Right Here Beside You" and "Living on the Bright Side".
Haviah Mighty playing at Monster World Mashup
Haviah Mighty's energy seemed contagious, as she got up close with many fans in the crowd. The rapper and R&B singer performed a track dedicated to her hometown of Brampton titled, "Flower City".
Testament performing at Monster World Mashup
Spoken word performer Testament stopped by to explain his real definition behind the word peace. His upbeat personality and mojo kept the audience cheering for more.
Movin' Cool and Stay Out Late playing at Monster World Mashup