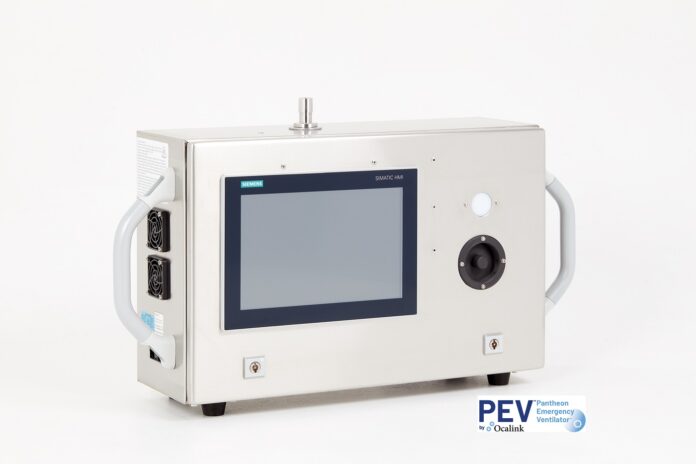 Ocalink's Pantheon Emergency Ventilator is safe and effective for both hospital ICU emergency and makeshift hospitals operating
VANCOUVER-BASED Ocalink Technologies Inc. announced on Thursday that it has received Health Canada certification pursuant to the Interim Order authorization of the Minister of Health of Canada for their Pantheon Emergency Ventilator (PEV). The PEV is a hospital ICU-ready ventilator built in consultation with respiratory therapists, critical care physicians, and other medical professionals to treat COVID-19 patients.
"This is a very exciting time for Ocalink as our first manufactured units can now ship, and we can bring our made-in-Canada solution to the world. Because our simple yet sophisticated design contains fewer than 60 components, all of which are either directly machined in Canada or are readily available parts, we are in the position to manufacture in large quantities and scale up to 1,000 devices a day despite a currently constrained global supply chain," says Corbin Lowe, Ocalink Co-founder and CEO.
The PEV contains all the safety features recommended by Health Canada and Alberta Health Services (AHS), Canada's largest provincial health authority, and has also completed usability tests with AHS. Now that Health Canada certification has been granted, Ocalink will commence production and delivery of the PEV with multiple ISO 13485 medical device certified manufacturers, ensuring that large production quantities can be delivered on-time with full quality control, traceability, accountability and after-sales servicing.
The PEV is a Class III medical device ventilator which can continuously deliver pressure-controlled ventilation through several modes using a turbine-based design and can be used for both invasive and non-invasive ventilation. Its key feature is that the PEV does not require medical compressed air to function due to its turbine-based design that runs on electricity only, while having the ability to be supplemented with optional external oxygen sources to deliver higher oxygen content. Such design means that the PEV can be used in makeshift hospitals in addition to regular hospital settings. The PEV's box-shaped design and hard storage case make it ideal for stockpiling and storage compared to traditional stand-up ventilator designs.
Ocalink spent the early weeks when the pandemic was unfolding working with volunteer biomedical engineers, respiratory therapists, anesthesiologists, nurses, doctors, and intensive care unit workers on a ventilator design that provided the minimum functionality required to treat COVID-19 patients. The result was the PEV which encompasses simple functionality, easily manufactured parts, and straight-forward design, which significantly reduces the risk of manufacturing delays under a constrained global supply chain.
 For more information, visit www.ocalink.com.