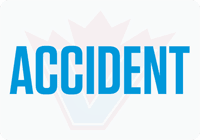 SHORTLY after 7:30 a.m. on March 26, Richmond RCMP responded to a serious two-vehicle collision in the intersection of Gilbert Road and Francis Road. Both vehicles sustained heavy damage with one of vehicles located upside down on its roof after striking a light standard and a residential fence.
The occupants of both vehicles sustained non-life threatening injuries.
An unmarked Richmond RCMP vehicle with its lights activated was also involved. The officer is uninjured.
Speed is believed to be a factor in the collision.
The Richmond RCMP Criminal Collision Investigation Team (CCIT) has now assumed conduct of the investigation with the assistance of the Lower Mainland Integrated Collision Analysis and Reconstruction Service (ICARS).
Police are asking for witnesses or vehicle owners with dash cams travelling in the area to review their footage and contact them at 604-278-1212. Quote file # 2020-9085.