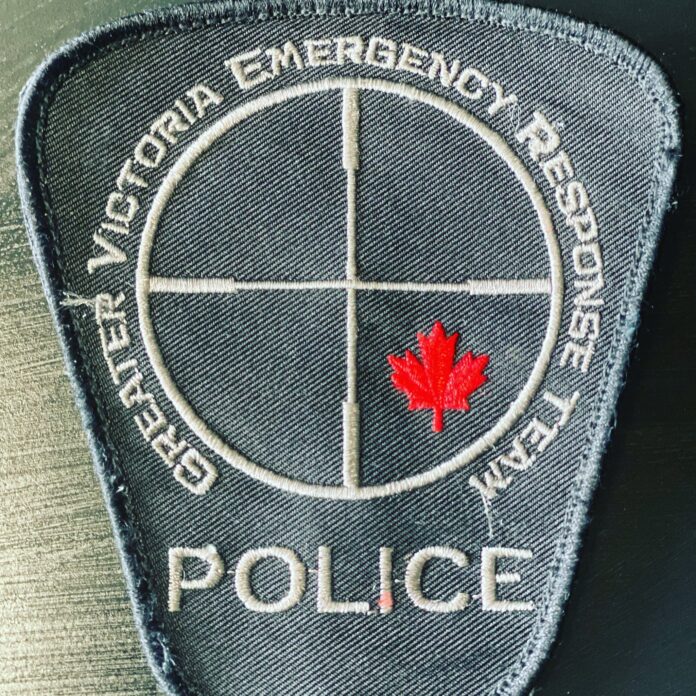 SAANICH Police said on Wednesday that the investigation continues into an ongoing incident at a bank in Saanich that began on Tuesday. Two suspects are deceased and six officers from the Greater Victoria Emergency Response Team (GVERT) sustained gunshot wounds.
At approximately 11 a.m. on Tuesday, June 28, officers with Saanich Police, GVERT, and Victoria Police Department responded to a call that two armed men had entered a bank in the 3600-block of Shelbourne Street in Saanich.
Multiple officers responded to the scene and encountered the armed suspects who exchanged gunfire with police. Two suspects were shot by police and died at the scene.
Six GVERT officers suffered gunshot wounds and were transported to hospital.
Three officers have been released from hospital and are recovering at home with their families.
Three officers sustained what were considered life-threatening injuries at the time of the incident. These officers remain in hospital following surgery. One of these officers will require additional surgeries and treatment over the coming months, and one of these officers remains in the Intensive Care Unit following surgery and will require additional surgeries and treatment over the coming months.
Explosive devices were discovered during the incident in a vehicle associated to the suspects. Homes and businesses in close proximity to the scene of the incident were evacuated for safety, while the BC RCMP Provincial Explosive Disposal Unit (EDU) attended to address the devices.
The explosive devices were transported on Wednesday afternoon to Hartland Landfill Facility by the EDU and safely destroyed. Some residents and businesses remain unable to return to their homes and places of work as officers continue to process the crime scene.
This remains an ongoing police incident. Shelbourne Street, between Cedar Hill Cross Road and Donnelly Avenue, will remain closed on Wednesday during the investigation.
Officers continue to investigate the potential of a third suspect involved in this incident. However, at this time police do not have information to believe that there is a risk to the public. Police said they will continue an ongoing risk assessment and keep the community apprised of any updates.
The Vancouver Island Integrated Major Crime Unit (VIIMCU) has assumed conduct of this criminal investigation and will be the primary agency responsible for media inquiries about this investigation.
Submit tips related to this investigation to the VIIMCU information line at 250-380-6211. Anyone with digital evidence related to this incident, in the form of video or photographs, is asked to upload the information at: https://saanichpd.ca.evidence.com/axon/citizen/public/22-12262
As with all officer-involved shootings in British Columbia, the Independent Investigations Office (IIO) is also investigating this incident.
Saanich Police said they sincerely appreciate the ongoing support for their officers and community during this time, and will provide additional updates regarding this incident as they are able.
ALSO READ:
Vancouver Island Integrated Major Crime Unit investigation into Saanich shooting incident