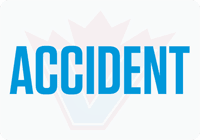 ON Wednesday at approximately 11 p.m., Surrey RCMP responded to a report of several vehicles that had collided in the southbound lanes of 176 Street near the 92 Avenue intersection.
A late model station wagon was travelling southbound on 176 Street when it lost control due to the hazardous weather conditions and was struck by another vehicle. Several other vehicles also lost control on the hill, resulting in several other minor collisions.
A passenger in the station wagon was transported to a local area hospital to be treated for injuries sustained in the initial collision. There have been no other reported injuries.
Police said alcohol and speed have been ruled out as factors in the collision, and the weather conditions are the major contributing factor. The incident is still under investigation.
Anyone with more information, including dash cam footage of the incident, is asked to contact Surrey RCMP at 604-599-0502 and quote file number: 2021-198109.
If you wish to make an anonymous report, contact Crime Stoppers at 1-800-222-TIPS or www.solvecrime.ca.