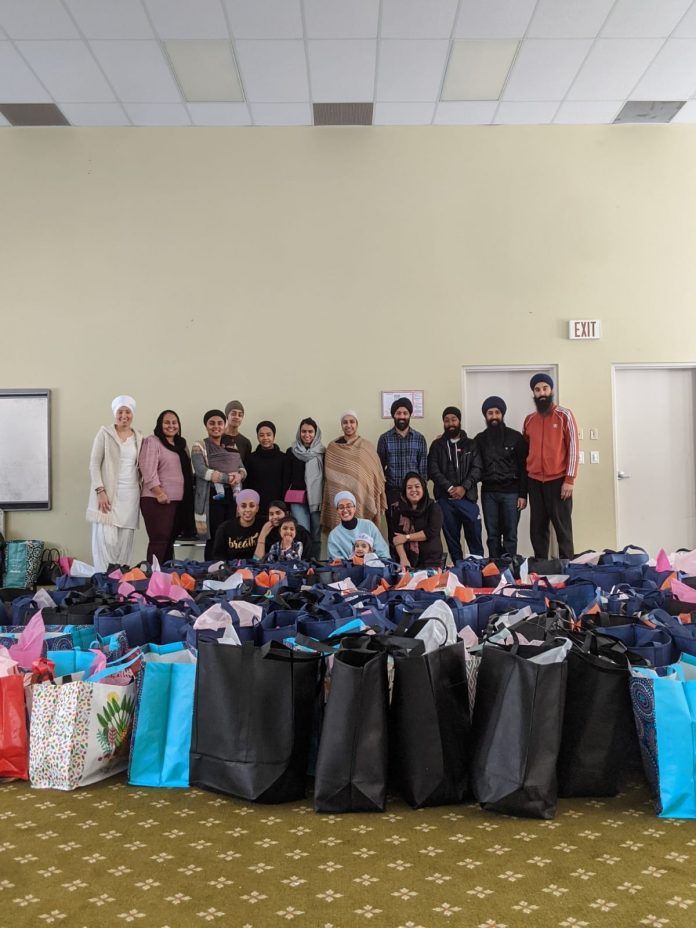 FOR the seventh consecutive year, Sikhs across Canada, in partnership with the World Sikh Organization of Canada, took part in the One Billion Rising movement by preparing over 2,300 care packages for  women and children in shelters in 11 Canadian cities:  Surrey, Vancouver, Kamloops, Calgary, Saskatoon, Regina, Winnipeg, Toronto, Guelph, London, Ottawa and Montreal.  Personal care items, edibles and handmade Valentine's cards prepared by Sikh children accompanied the packages. 
One Billion Rising began as a call to action based on the staggering statistic that 1 in 3 women on the planet will be beaten or raped during her lifetime. With the world population at 7 billion, this adds up to more than one billion women and girls.
This initiative was launched by the WSO in 2013 in Vancouver and has subsequently grown to cities across Canada.
For the first time this year, the Sikh community in London, Guelph, Saskatoon and Kamloops took part.
Volunteers gathered in each city to prepare packages which included a variety of items, including, gift cards, personal care products and plush toys for children. 

 
WSO President Tejinder Singh said, "The Sikh community and WSO's One Billion Rising initiative began with just once city in 2013 and is now in 12 cities across Canada.  Our volunteers who organize this event work tirelessly with the support of the community but it's all worth it when we hear about the amazing response from those who receive the packages in shelters. 
"Once again, this year we have been promoting WSO's Sikh Family Helpline as an active resource for women and families facing violence. We are proud to have had Guelph, London, Saskatoon and Kamloops join us for the first time this year.  We are deeply grateful to our community partners and organizations across Canada for helping make all this possible."