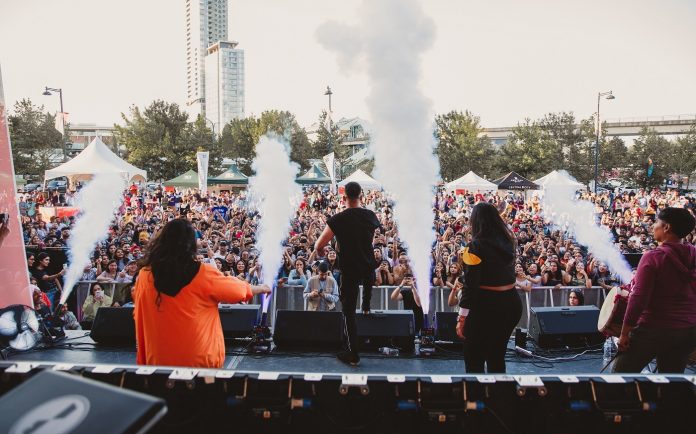 5X on Wednesday announced their 2020 Festival — 5X: Race to the Stage — in collaboration with global wellness and fan engagement platform Stepathlon. 5X: Race to the Stage will gather festival-goers worldwide to move around a virtual world through real life steps and activities (yoga, dancing, meditation) combined with gamification and engagement (daily contests, challenges and events).
By downloading the app, festival-goers will immerse themselves in a virtual world, exploring 40+ stages located across the globe, featuring concerts, performances and 60+ of their favourite local and international creators to complete their journey and arrive at the 5X Mainstage for a two-day experience on September 19 and 20. Participants will explore the hottest in South Asian youth culture through creativity and movement, while encouraging mental and physical health. 
The event comprises a six-week registration period and an eight-week virtual journey, where participants combine creativity and movement each day, uploading content and logging their activity to discover over 40 stages and unlock exclusive content, merchandise and prizes. Following a 'reward the many' approach, prizes are awarded daily and include a mixture of real life prizes and one-on-one online activations such as musical workshops, workouts, cook-offs, and more, that users will enjoy from the safety of their own homes.
Those who progress through the entire festival will be awarded a Golden Ticket to the 5X Mainstage: a weekend with 14 A-list South Asian creators on September 19 and 20. Previous editions of the festival have hosted notable guests, such as Rupi Kaur, Raja Kumari, Jasmine Sandlas, Mickey Singh, Sandy Lion and more.
"There are approximately 210 million South Asian millennials in North America and India alone; we want to unite and evolve our community beyond physical boundaries. We create a space where artists can meet artists, novices can meet masters, and fans can be inspired to find their inner artist," says Tarun Nayar, Executive Director, 5X Festival. "We have always aspired to be a global brand and online community, and although COVID-19 has been devastating for everyone, it has also been a catalyst for us to fast-track towards this goal."
5X: Race To The Stage, is produced in collaboration with Stepathlon, whose Founder and Chairman Ravi Krishnan also holds the title of 5X Festival's Non-Executive Chairman. Founded in 2012, Stepathlon is a proven platform that has worked with 722 companies, engaging over 500,000 participants across 1,010 locations in 65 countries. 5X and the Stepathlon teams worked in partnership to develop a virtual, music-centric experience tailored to the global South Asian millennial audience, a purpose made especially urgent due to the current realities of a COVID-19 world.
Discussing the relationship, Krishnan says, "Throughout my career, I have been fortunate to have been involved in the 'process of pioneering,' working at the junction of creative and commerce. This experience has given me a relevant blend of strategic, commercial and execution capabilities that I seek to share for the benefit of the promoters and projects with whom and which I collaborate. I strongly feel that the opportunity for 5X Festival is substantial and timely. They have laid a solid foundation and with the support of our Stepathlon platform, we can really help propel their growth and expand their reach to create broader, deeper impact and inspiration." 
5X: Race to the Stage embraces movement, creativity and mental health as its three key pillars of overall well-being, which are increasingly important in a time of self-isolation, quarantines and lockdowns. More than ever, there is real desire for music, fun, creative outlets and connection. This is particularly true for many of the tens of thousands of South Asian international students, who have found themselves stranded and isolated throughout North America at this time. This festival also decidedly continues to highlight 5X's commitment to their sustainability and female-forward policies by ensuring accessibility for all and gender parity across their festival line-up, board of directors, staff, and membership.
By keeping audiences engaged from 'screen to stage', 5X hopes to motivate young people to stay active and connected pre, during, and post-race; help to relieve stress and anxiety; and eventually bring disparate communities together. In previous Stepathlon programs 95.2% of participants reported a positive change in their health and 73% felt a reduction in stress.
5X Festival acknowledges the support of the City of Surrey, City of Vancouver, Canada Council for the Arts, the Government of Canada, the BC Arts Council, and the Province of British Columbia.
5X: Race to the Stage registration opens June 11. For more information, visit: www.5xfest.com.