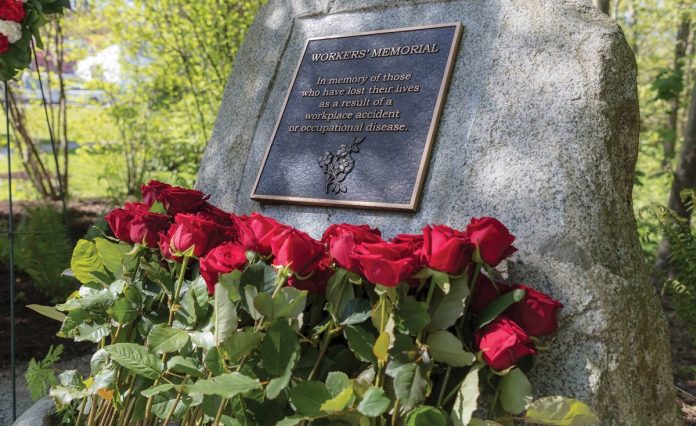 THE annual Day of Mourning commemorates workers who have been killed or seriously injured as a result of their job. In B.C., family survivors will be joined by workers, unions, employers and local labour councils to mark the day with more than 35 ceremonies throughout the province.
In 2018, there were 131* work-related deaths in B.C., 66 resulting from occupational disease (primarily related to historical asbestos exposure), and 65 resulting from traumatic injuries. In the Greater Vancouver region in 2018, 39 work-related death claims were accepted.
A public memorial ceremony is being held in Surrey with presentations from:
Harry Bains, Minister of Labour and MLA, Surrey-Newton
A representative from the City of Surrey
A representative from CUPE Local 402
Date: Friday, April 26
Time: 7:30 a.m.
Location: City of Surrey Operations Centre, 6651 148th Street
On Friday, April 26, more than 180 schools across the province will take part in the BC Labour Heritage Centre's Day of Mourning Schools Project. In 2019, participating schools in Surrey include Clayton Heights, Cloverdale Learning Centre, Education Services, Elgin Park, Enver Creek, Fleetwood Park, Frank Hurt, Fraser Heights, Guildford Learning Centre, Guildford Park, Johnston Heights, LA Matheson, North Surrey, Princess Margaret, Queen Elizabeth, Semiahmoo, Sullivan Heights, Tamanawis, Westerman, Hazelgrove, Salish, Kwantlen Park, Lord Tweedsmuir, Earl Marriot, and Panorama Ridge

.
The Canadian Labour Congress held the first National Day of Mourning ceremony in 1985, making Canada the first country to formally commemorate workers killed in the workplace. In 1991, the federal government passed the Workers Mourning Act, and the following year British Columbia proclaimed April 28 the Day of Mourning. Today, it is recognized in 100 countries around the world.
*based on WorkSafeBC accepted work-related death claims