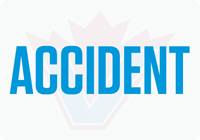 Seven injured in two-vehicle collision
THERE are road closures between 102 Avenue and 104 Avenue on 128 Street due to a serious motor vehicle collision. The road closure is in effect until further notice, Surrey RCMP anounced at 12:39 p.m. on Friday.
On May 19 at 10:11 a.m., Surrey RCMP responded to a two-vehicle collision in the 10300-block of 128 Street. Seven people from the two vehicles were injured and have been transported to local hospital. One person has suffered serious injuries.
Surrey RCMP's Criminal Collision Investigating Team (CCIT) and Integrated Collision Analysis and Reconstruction Team (ICARS) are investigating the cause of this collision. Police will be conducting a full investigation into the cause of the collision, including what role speed or other driving behaviours may have played in this collision.
If you were in the area of 128 Street and 103 Avenue at or around the time of collision and either witnessed the collision or may have dash camera footage, you are requested to contact surrey RCMP at 604-599-0502.