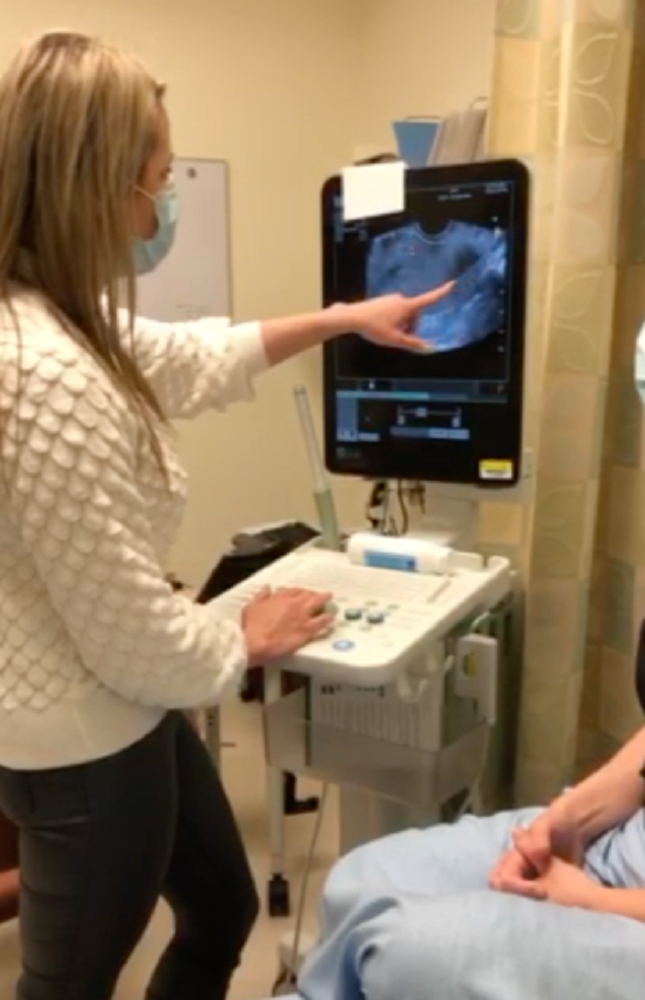 THE Surrey Hospitals Foundation has invested $128,000 to help purchase a new 3D ultrasound machine for the Surrey Chronic Pain Clinic at the Jim Pattison Outpatient Care and Surgery Centre. The Surrey Chronic Pain Clinic is the only clinic in the Fraser Health region with a specialty in treating pelvic pain and endometriosis.
Dr. Claudine Storness-Bliss, an obstetrician-gynecologist (OBGYN) and pelvic pain specialist at the Surrey Chronic Pain Clinic, explains that 3D ultrasound technology can improve the physician's ability to accurately diagnose certain gynecological concerns compared to the traditional 2D ultrasounds. 3D ultrasound technology is more accurate and sensitive in defining and mapping abnormalities like uterine lesions and adhesions, congenital uterine anomalies, fibroid tumors and endometrial polyps in the uterus, fallopian tubes and ovaries.
"Pelvic pain in women is often complex and particularly difficult to diagnose because the cause can be a result of many complicated health conditions and abnormalities," says Storness-Bliss. "As the only chronic pain clinic specializing in pelvic pain in the Fraser Health region, it is crucial that we are equipped with the latest technologies to help specialists better diagnose and treat these health conditions. The 3D ultrasound technology has already helped hundreds of women at our clinic in the last 12 months, and it's thanks to the Surrey Hospitals Foundation for their generous contribution."
Chronic pelvic pain can be a disabling, chronic, persistent pain lasting more than three to six months, within the pelvis in women.[i] A Canadian study demonstrated that chronic pelvic pain represents a considerable economic burden to Canada's health care system, amounting to an average cost of $25 million per year within a four-year period when the study was conducted.[ii] Chronic pelvic pain is a common condition that affects an estimated 15 to 20 percent of women, ages 18 to 50 in the U.S.[iii]
Additionally, endometriosis is a difficult, painful, and complicated disease that affects approximately one million women in Canada. The disease can involve multiple organ systems, often resulting in debilitating chronic pain and infertility, carrying an estimated annual healthcare cost of $1.8 billion.[iv]
Jennifer Marchbank is a 56-year-old patient of Dr. Storness-Bliss who was diagnosed with ovarian adhesion caused by endometriosis (her ovary was attached to the pelvic side wall) with the help of the 3D ultrasound technology. Jennifer has suffered from debilitating pain caused by endometriosis since her youth, and has gone through a number of medical diagnoses and procedures in the last 20 years. It wasn't until Dr. Storness-Bliss diagnosed her and she underwent minimally invasive surgery that she became pain free.
"Many women like me who have chronic pelvic pain and endometriosis suffer in silence for years because often times doctors attribute this as a 'normal' part of female reproductive health," says Marchbank. "What people don't realize is that this pain is often debilitating and impacts our daily lives greatly. I encourage all women who have health concerns to be proactive in seeking medical help and to push to see specialists. If it wasn't for Dr. Storness-Bliss and the Surrey Chronic Pain Clinic and the innovative technologies they have, I would still be suffering in pain."  
"One of our most important missions at the Surrey Hospitals Foundation is to support our medical experts by equipping them with life-changing medical equipment to deliver the highest quality health care possible," says Jane Adams, President and CEO of the Surrey Hospitals Foundation. "Jennifer's incredible story with the help of highly-skilled specialists like Dr. Storness-Bliss, are great examples of how we can positively impact someone's life with the support of donors and our community."
[i] https://www.ncbi.nlm.nih.gov/books/NBK554585/
[ii] https://www.jogc.com/article/S1701-2163(16)39467-1/pdf
[iii] https://www.uhhospitals.org/services/obgyn-womens-health/female-pelvic-health/conditions-and-treatments/chronic-pelvic-pain
[iv] https://www.jogc.com/article/S1701-2163(20)30472-2/fulltext