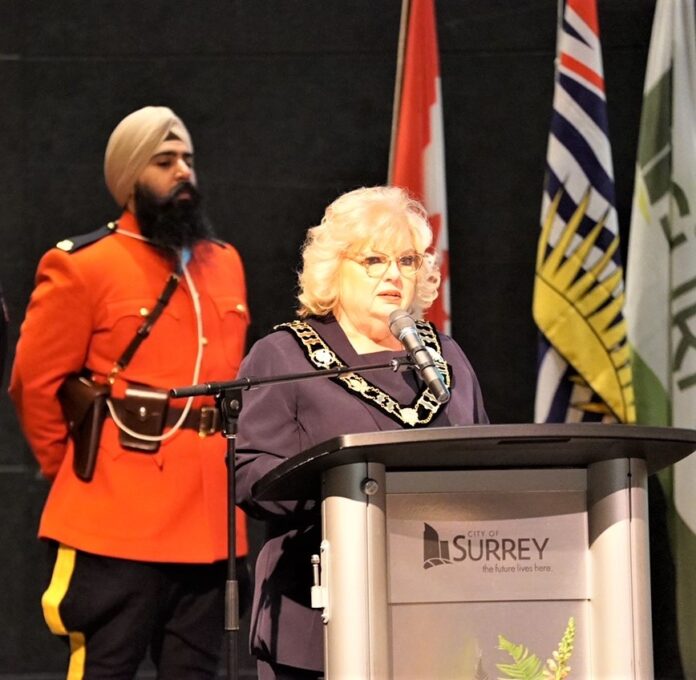 IT is the talk of the town!
Here was Surrey Mayor Brenda Locke posing with a Sikh RCMP officer with his turban and full beard at the Vanmag's 2023 Power 50 Celebration.
We had people calling us trying to figure out what Locke was up to in using a Mountie in the traditional Red Serge as a prop.
They felt it was terribly tasteless.
"She didn't even introduce the person as 'Sgt. so-and-so.' She just used him as a prop. It was so demeaning to that Sikh gentleman and to the RCMP," one prominent British Columbian told us.
"Why did the RCMP command allow that? Don't they have any dignity?" asked another attendee.
The prestigious Vancouver Magazine featured the photo on its twitter with the caption: "Surrey Mayor Brenda Locke brought an RCMP officer with her to the event."
When we told the people who asked us about it that it was apparently Locke's desperate attempt to try and put pressure on the government to keep the RCMP in Surrey by hook or by crook, they felt disgusted at the cheap tactic!
Government sources told The VOICE that the Province wasn't impressed by that tactic and felt that, in fact, the RCMP seemed to have lost all their self-esteem.
There soon will be a million jokes about "Brenda and the Mountie"!