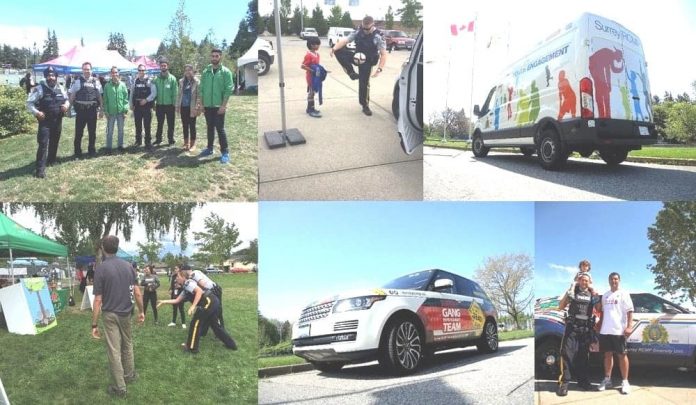 IN preparation for a busy summer events season, the Surrey RCMP's Community Engagement Teams are ramping up their attendance at various community, sporting, and cultural events throughout the city.
Team members from various units including Special Events, Diversity, Community Programs, and Youth Unit will be at these events connecting with children and youth and offering resources to parents.
This initiative is part of the Surrey RCMP's long-term commitment to building an early positive rapport with youth and their families and bringing awareness to the many programs and services available. Last summer team, members attended over 100 community events and engaged thousands of people. This year the teams have added two new vehicles to their fleet to expand their outreach.
"Our officers, staff, and volunteers will be highly visible in the community and look forward to meeting local residents in a fun, yet informative environment," says Surrey RCMP Supt. Shawn Gill, Community Services Officer. "The community is our partner when it comes to promoting pro-social behaviour in youth and acknowledging the impact early education and outreach can have on our younger generations."
Surrey RCMP continue to be involved in a number of youth programs and services as the summer approaches and youth become engaged in activities outside of school.
Surrey Gang Enforcement Team (SGET) officers continue to deliver presentations about the dangers of drugs and gangs with their "Shattering the Image" program while Youth Unit officers continue to be involved in the Surrey Wrap Program engaging at-risk youth in recreational outings this summer.
A number of intervention programs for families are also available including the Parent Helpline (604-599-7800) which provides another avenue for parents who are concerned about their children becoming involved in illegal activities. In addition, the Youth Intervention Program and Restorative Justice Program continue to offer alternative solutions to youth involved in the criminal justice system.
For more information on all of the Surrey RCMP's youth programs, visit their website.