Chandigarh (IANS): Haryana Police have arrested a 28-year-old unemployed woman who has an MBA degree and handed her over to Punjab Police for allegedly sheltering fugitive Khalistan sympathizer Amritpal Singh and his accomplice Pappal Preet Singh at her house in Shahabad town in Kurukshetra district.
The accused, Baljeet Kaur, lives with her brother and father. Her brother works at the Sub Divisional Magistrate (SDM) office, while her father runs a milk business.
Kurukshetra Superintendent of Police (SP) Surinder Singh Bhoria told the media that Baljeet Kaur was in touch with Pappal Preet Singh.
"It is being suspected that Pappal Preet and Amritpal stayed at their house on Sunday night. After some questioning, Punjab Police were intimated and the woman was handed over to them for further investigation," he said.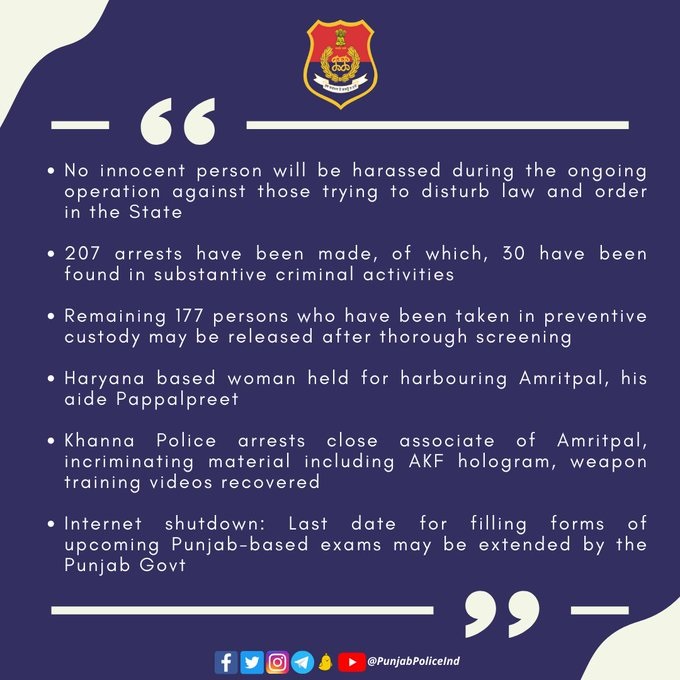 Amritpal Singh, against whom the National Security Act (NSA) has been invoked and a non-bailable warrant issued, has been on the run despite the massive manhunt launched to nab him since March 18.
The self-styled preacher, who returned from Dubai last year, tied the knot with Kirandeep Kaur in a simple ceremony in February. A police team, comprising women officers, questioned her in her husband's native place for nearly an hour in connection with alleged foreign funding for her husband's activities.
Official sources told IANS that the police have also scanned bank accounts of Amritpal, his wife and parents to trace sources of funds.
The motorcycle on which Amritpal Singh fled has been found by the police. The police have also seized the Mercedes car in which Amritpal Singh fled after the crackdown.