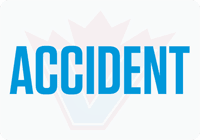 A 22-year-old Port Coquitlam male pedestrian was taken to hospital and is in critical condition after being stuck by a truck.
At around 2:30 a.m. on Thursday, Ridge Meadows RCMP responded to a report of a pedestrian that was struck by a vehicle near the intersection of Lougheed Highway and Harris road. Witnesses report the pedestrian was attempting to hail a taxi when he stepped into the eastbound lanes of Lougheed Highway and was struck by a five-ton box truck.
"This is a tragic outcome and we are supporting the family during this difficult time," said Sgt. Brenda Gresiuk. "We have had a mild October but this week the weather has changed and the rain is here. These darker days make it more difficult to see and be seen. Please be safe."
Gresiuk added: "Ridge Meadows RCMP would also like to thank the witnesses that stopped and provided initial first aid which included CPR."
Ridge Meadows RCMP Traffic Services are investigating with assistance from the Integrated Collision Analysis and Reconstruction Service (ICARS).
The investigation is ongoing and all parties are cooperating.